It's a Chinese New Year tradition for my mom to make nian gao every year. She will always make 3 different flavors and give them out to relatives and friends. As a child I really liked the red bean nian gao, but I would never eat daikon nian gao or taro because I was really picky back then. Now, I like eating all three flavors. For the savory nian gao, it is best paired with a soy sauce with minced garlic.
Daikon Nian Gao 蘿蔔糕 is also better known as turnip cake or radish cake. They aren't made out of turnips, but daikons, so the name isn't as accurate. You can find these "cakes", fried, at dim sums. They have a solid texture. When pan fried, they have a nice, crispy outer layer and a warm, semi-soft inner layer.

Daikon Nian Gao 蘿蔔糕
Recipe from my mom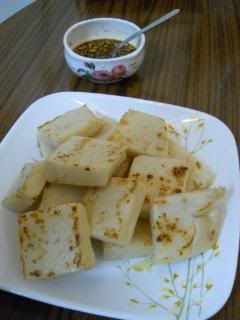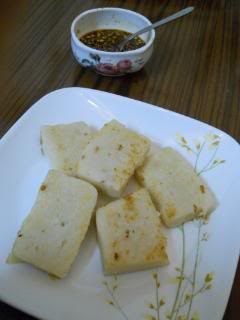 Please note that the amount of the ingredients used is just a reference. I didn't have a chance to measure them out or weigh them because my mom was quickly making it. I might be making some corrections tomorrow after I ask my mom if this is correct. I'll also be adding a video, right now my windows video maker is being weird.
Ingredients
2 large daikons, they were as long as and as thick as my forearm
1 tbsp salt, you'll see a picture of it later
1 tbsp white pepper
dash of msg, optional
1 16 ounce bag of rice flour
3 tbsp dried shrimp, soaked in water until soft
water, reserved from the daikons
Grate two large daikons.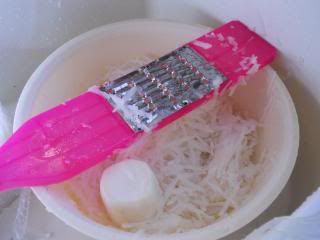 Cook it on high heat in a wok until it is not raw. Water will start seeping out from the daikons. Reserve it, because it will be used later on.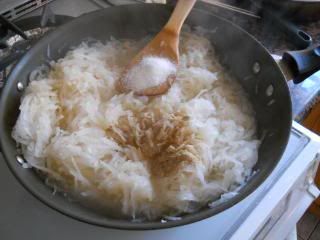 Add salt and pepper to taste. Around 1 tbsp or more each. Add a little msg, optional.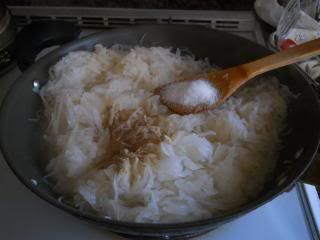 Stir and add in the
mini dried shrimp
, also known as 蝦米.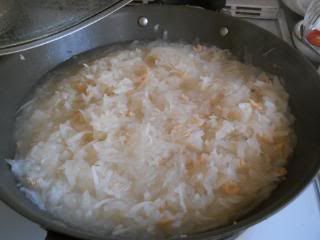 Mix together the rice flour and the reserved daikon water together. Make sure that the water has cooled down or is lukewarm before doing so.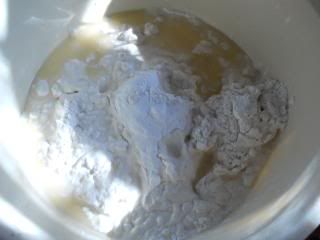 Then add the batter to the cooked daikons and stir. Mix until thoroughly combined and pour into separate containers. Steam for around 30 minutes on high fire.
Before
After I ate it