炸酱麵 also known as zha jiang mian or bean paste pork noodles (my translation), is a dish where bean paste is used to make a sauce and cooked with minced pork. My mom also adds 豆乾 (dried tofu) that is diced into this dish, which is a childhood favorite of mine. Whenever my mom made this dish, I would eat one bowl after another until I felt like my stomach would explode. XD After a really long time of not cooking these noodles, my mom decided to make them for me on 10/9/10. I was soo happy! It was actually to celebrate the end of my SATs because I don't want to take anymore SATs after the one I just took on 10/9/10.
My mom usually cooks these noodles with hand pulled noodles bought from a supermarket, but last week she made them with regular thin noodles.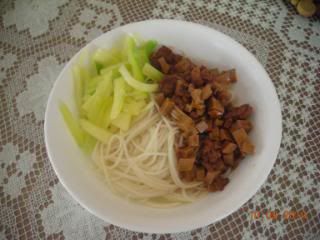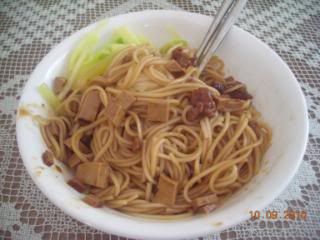 I'll share the recipe one day when my mom makes them again.
Next time, maybe I'll try making
homemade
noodles
too with this recipe. :)