I forgot if I mentioned this already, but for my family September is the month of birthdays. First, my grandma's, then my uncle's and then my dad's. My uncle and dad's birthdays are just one day apart and my grandma's birthday is 2 days before their birthdays. I also have quite a few friends whose birthdays also were in September. So for my grandma's birthday I baked her some brownies because I didn't have enough time to do anything really special. Then for my uncle's birthday I made these cupcakes. My dad's birthday was celebrated on my uncle's birthday and I ended baking a marble loaf cake for him a few weeks later, I'll share the recipe to that in a few days.
Back to the topic of cupcakes. I am not too confident in my ability to make cupcakes, but I wanted to try this recipe out because it seemed easy enough. I was a bit put off by one of the recent comments that said that the cupcakes turned out terribly (she subbed oil for butter though). However, I really wanted to bake something quickly before I went out to eat dinner with my extended family. On that same day I also attended a car wash fundraiser for marching band and went to Chinese school. So I quickly decided to make these and guess what, they turned out perfectly! The only thing I had to change was to bake for an extra 5 minutes. The cupcake was nice and moist, not overly so, and the chocolate taste was good. It was not a rich, decadent cupcake, but a subtle chocolate taste that you had to savor. The tops turned a bit smooth looking? They looked hard or something, kind of like a crust. If you let them sit out for a day or two, the tops of the cupcake starts to look moist and shinier. I didn't make any frosting to go with these though, I didn't have the ingredients/time.
One Bowl Buttermilk Cupcakes
Recipe from Baking Bites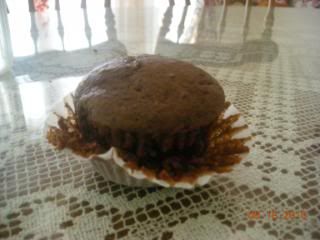 Recipe from
Baking Bites
1 1/2 cups all purpose flour
1/4 cup cocoa powder
1 cup sugar (I might have used 3/4 cup I forgot)
1 tsp baking soda
1/2 tsp salt
1 cup buttermilk, room temperature (I microwaved mine for around 10 seconds)
1/4 cup butter, melted and cooled
1 tsp apple cider vinegar
1 tsp vanilla extract
Preheat oven to 350*F. Line a 12-cup muffin tin with cupcake liners.
In a large bowl, whisk together flour, sugar, baking soda and salt.
Add buttermilk, melted butter, apple cider vinegar and vanilla extract. Stir until just combined.
Divide evenly into the prepared muffin tin and bake for 14-16 minutes at 350*F, or until a tester comes out clean.
Cool completely on a wire rack before frosting.