After going through several recipes, trying to use up my sour cream, I finished up the last of my sour cream with this recipe. Originally, I planned to make one batch of these donut muffins, but after realizing I would have a few tbsps of sour cream left, I decided to use up all the sour cream and adjust the amount of ingredients accordingly.
The method used to make these muffins involves reverse creaming. Reverse creaming is when you add butter to the dry ingredients and work it in, instead of creaming butter and sugar first. This makes the texture of the treat more tender and results in a tighter crumb. This method is also used when making scones and biscuits.
These donut muffins really did resemble donuts. They're the healthier version of donuts. I thought it tasted pretty good, not too sweet and nice texture. My brother didn't like these as much because he suspected me of putting whole wheat inside. (Shh, he doesn't know yet ;) My friend said that it was a bit dry, but I think that might be because it was a day old. I also gave one to my teacher because she loves cupcakes and this is classified as a cupcake imposter, she liked it enough to ask me for the recipe. With that said, I think these are best eaten the day of baking.

Chocolate Glazed Baked Doughnut Muffins
Recipe from
Joy the Baker
who adapted it slightly from Doughnuts
Recipe adjusted by me to make 12 doughnut muffins
makes 12 doughnut muffins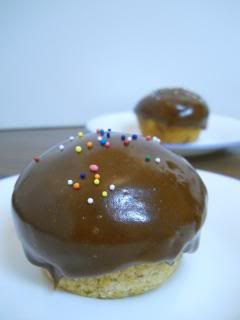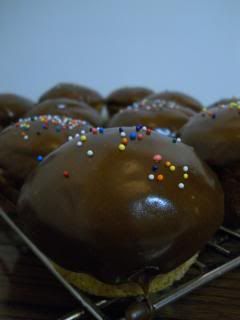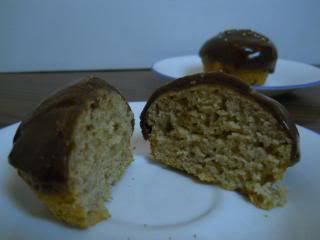 Please note: Because of my wacky adjustments, I used a scale to measure everything out and some ingredients were not measured out exactly as required... I bet you'll be laughing after you see how I adjusted the ingredients. :D