I've only eaten sugar cookies a few times in my life and the few times I've eaten them were when my friend A. made them.
On Club Day, a club fundraiser event at my school, my friend who is in charge of book club had a bake sale. The cookies included cc cookies and sugar cookies. After lunch, which was when the sale took place, there were still some leftover cookies. I didn't buy any cookies until after school when I saw my friend again. She offered me some cookies and I couldn't resist and bought them. I was so hungry after school that I ate 3 cookies all by myself while waiting for my mom to pick me up from school. I felt terrible....after getting the recipe from my friend, I found out that each cookie had 150 calories and a whole bunch of sugar (obviously). Oh well, what's done is done. So here is the recipe for the addicting cookies, enjoy!
I made these for my dad's coworkers because he was returning to work after taking a short vacation. I started preparing them at around 9 pm and chilled them for a few hours before finishing baking and packaging them at 2 am. Now that was the latest I have ever stayed up till to bake. 0_0 It was totally worth it though!
Sugar Cookies
Recipe from my friend A.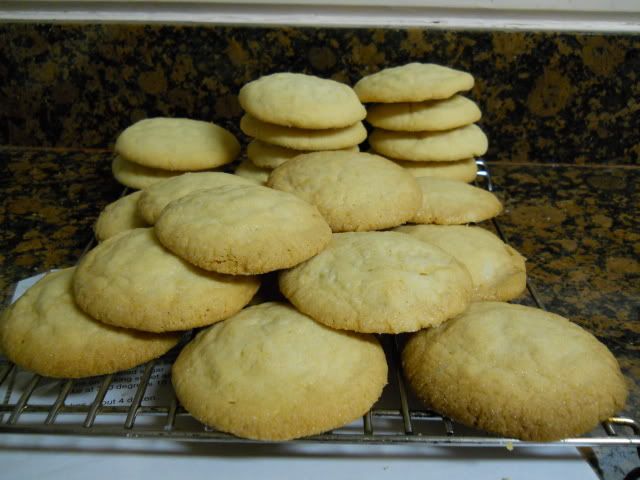 Ingredients
1 cup butter or margarine
1 cup powdered sugar
1 cup + granulated sugar
2 eggs
1 cup oil
2 t vanilla
1 t baking soda
1 t cream of tartar
1/2 t salt
5 cups flour
Cream butter with powdered sugar and 1 cup granulated sugar.
Beat in eggs until smooth.
Slowly stir in oil, vanilla, baking soda, cream of tartar, salt and flour.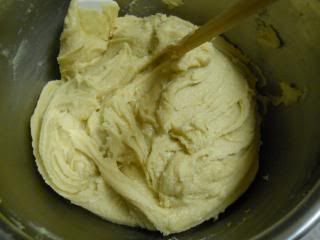 Chill dough for easy handling.
Shape into walnut size balls.
Dip in granulated sugar.
Place on baking sheet and press down.
Bake at 350 degrees 10 to 12 minutes.
Makes about 4 dozen.
When I was mixing all the ingredients together, I thought that the dough was very, very soft. I was worried and called my friend. She told me that I was supposed to mix all the dry ingredients before slowly adding in the wet ingredients. I was aghast! The recipe's directions were totally different from what she just told me. Fortunately, these cookies were a success.
Notes: To have a shorter baking time, flatten these cookies more. For puffier cookies, do not flatten these cookies as much. In order to achieve a pretty, sparkly cookie you have to roll them in even more sugar.