After going through several recipes, trying to use up my sour cream, I finished up the last of my sour cream with this recipe. Originally, I planned to make one batch of these donut muffins, but after realizing I would have a few tbsps of sour cream left, I decided to use up all the sour cream and adjust the amount of ingredients accordingly.
The method used to make these muffins involves reverse creaming. Reverse creaming is when you add butter to the dry ingredients and work it in, instead of creaming butter and sugar first. This makes the texture of the treat more tender and results in a tighter crumb. This method is also used when making scones and biscuits.
These donut muffins really did resemble donuts. They're the healthier version of donuts. I thought it tasted pretty good, not too sweet and nice texture. My brother didn't like these as much because he suspected me of putting whole wheat inside. (Shh, he doesn't know yet ;) My friend said that it was a bit dry, but I think that might be because it was a day old. I also gave one to my teacher because she loves cupcakes and this is classified as a cupcake imposter, she liked it enough to ask me for the recipe. With that said, I think these are best eaten the day of baking.

Chocolate Glazed Baked Doughnut Muffins
Recipe from
Joy the Baker
who adapted it slightly from Doughnuts
Recipe adjusted by me to make 12 doughnut muffins
makes 12 doughnut muffins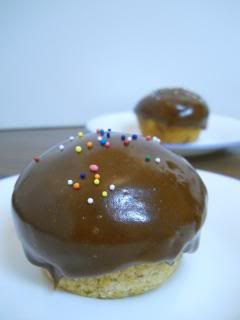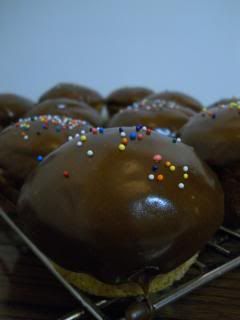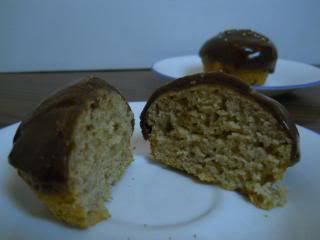 Please note: Because of my wacky adjustments, I used a scale to measure everything out and some ingredients were not measured out exactly as required... I bet you'll be laughing after you see how I adjusted the ingredients. :D
Please refer to Joy the Baker for detailed instructions and a normal amount of ingredients.
For the doughnut muffins:
187 grams all-purpose flour
23 grams whole wheat pastry flour
1.83 teaspoon baking powder
.45 teaspoon baking soda
.91 teaspoon freshly grated nutmeg (I used ground cinnamon)
.91 teaspoon salt
137 grams granulated sugar
51 grams unsalted butter, chilled and cut into about 14 cubes
.46 cup whole milk, scalded (Just use around 1/2 cup milk)
110 grams plain yogurt (I used sour cream)
1.83 teaspoon vanilla extract
1 extra large egg, beaten
For the chocolate glaze:
1/4 cup unsalted butter
2 tablespoons milk
2 teaspoons light corn syrup (To compensate for the extra sugar in my chocolate, I only used 1.5 tsp light corn syrup)
1/2 teaspoon vanilla extract
2 ounces unsweetened chocolate, chopped (you can also use bittersweet, it'll just be a sweeter glaze) I used semisweet chocolate chips instead.
1 cup powdered sugar, sifted
Because I increased the muffin recipe ingredients by 83%, I thought it would be better if I increased the glaze too. However, after I made the glaze I realized that I had tons leftover. So making the original amount of chocolate glaze is more than enough for 12 muffins.
Get all the dry ingredients and whisk them together.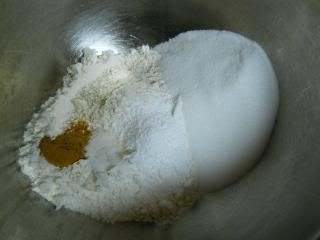 Add the chilled butter cubes and work it into the flour,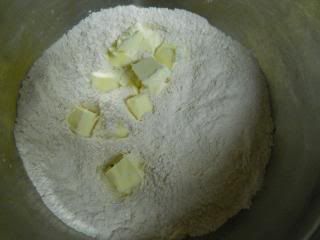 so that it has a grainy texture.
Whisk together the yogurt, egg and vanilla extract before whisking in the warm, scalded milk.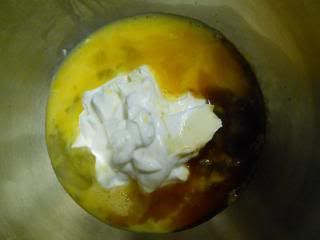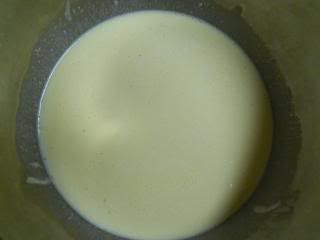 Add wet mixture into the dry ingredients and stir until just incorporated.
Close up..
Spoon batter into pan.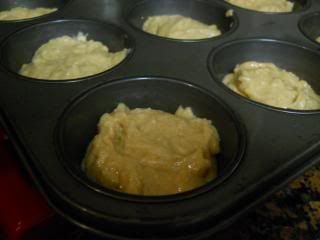 Bake the donut muffins and prepare the glaze.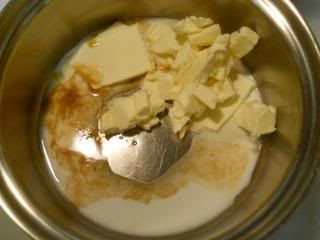 Add everything except for the chocolate and powdered sugar.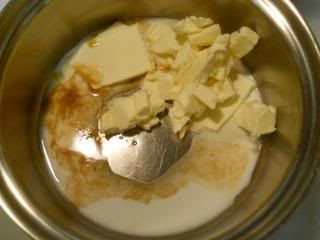 After everything is melted, turn of the fire and add chocolate.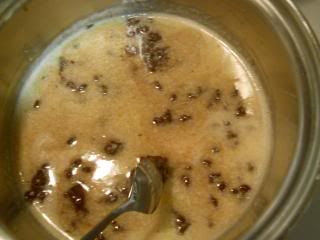 Stir until melted.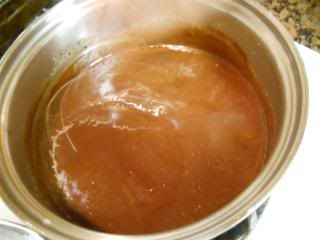 Add in sugar.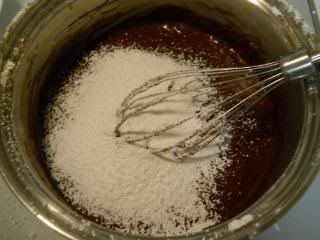 Now that the muffins are done, it's time to glaze them.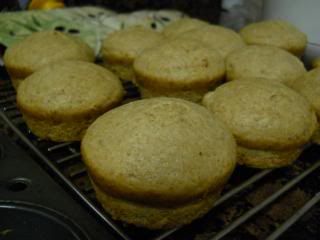 Dip them in the glaze and remember to decorate them with sprinkles.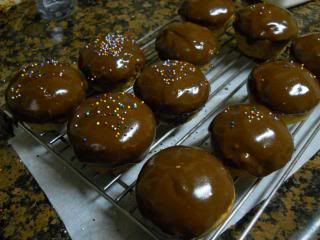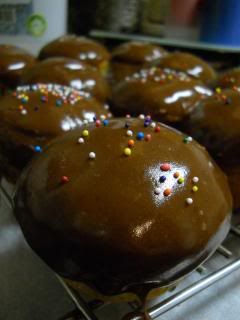 Notes:
1. Scalded milk is when you heat milk until it is close to boiling, but turn off the heat before it even boils. At this point, the milk will look frothy. I know that for breads, scalding milk allows for better rising. Maybe that's why we also need scalded milk for these donut muffins.
2. If you have leftover chocolate glaze, either eat it all up or be creative. :) I made cupcakes and scooped out 1 tsp balls and dropped them in the cupcake batter. Afterward, frost the cupcakes with the remaining glaze. The glaze loses its luster after refrigeration. To resolve that, just reheat the glaze for a few seconds in the microwave.