On the last day of my grandparents stay in the U.S. I baked a cake for them. I had wanted to bake this cake a week ago, but I didn't get to it until today.
Many other bloggers have made this marble cake too and all of them gave excellent
reviews
. Thank you
Honey Bee Sweets
for sharing this recipe! I will definitely be using this recipe again and again.
Like what
Honey Bee Sweets
said, the cake had a nice velvety texture to it. Right out of the oven, it had a nice, thin crisp exterior. Although the two batters weren't distinguishable when the cake is viewed from the top, they are inside the cake. Cutting through the cake, I could tell that it was going to be very yummy. When I brought a piece to school the next day to share with my best friend, she told me that she enjoyed it very much.
While making this cake, I had some doubts. The batter was surprisingly thick! I was beginning to think that I did something wrong while I was folding in the flour. At one point it was so difficult to even make one fold that the batter even resembled soft cookie dough. The batter was even harder than my sugar cookie dough before it got chilled. Regardless, I proceeded as the recipe told me to and it turned out fabulously. The one thing I forgot to do was actually give the batter a few swirls, so the cake wasn't all that marbly. I know, I know, there's no such word, but I can't think of any better word to describe it.
Chocolate Chip Sour Cream Marble Cake
Recipe from
Honey Bee Sweets
and adjustments from
Bakericious
Ingredients for a 10 cup bundt cake
Chocolate Paste
2.5 tbsp cocoa powder
2.5 tbsp hot water
Cake Batter
210g unsalted butter, room temperature
275g caster sugar (I used regular granulated sugar)
4 medium eggs (I used 167 grams)
2 tsp vanilla extract
175g sour cream
350g all purpose flour
2 1/3 tsp baking powder
1/6 tsp baking soda (I estimated)
1/2 tsp salt
1/3 cup chocolate chips (I used mini chocolate chips and I didn't use that much)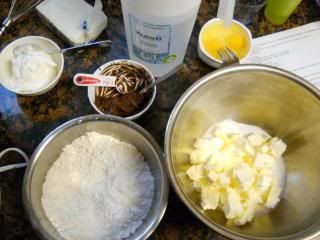 Directions
Preheat the oven to 355*F. Butter and flour a 10 cup bundt pan. Make a paste of 1 tbsp of butter mixed with 1 tbsp of flour, brush it on the pan until it coats the surface of every crevice.
In a small bowl, mix the cocoa powder and hot water together to make a smooth paste. I believe this is also called blooming the cocoa powder and water to bring out the chocolate flavor.
In a large bowl, cream the butter and sugar together till light and fluffy. Blend in the eggs and then vanilla. Add in the sour cream, and scraping the bottom of the mixing bowl to make sure it is evenly combined.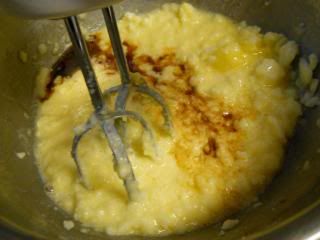 Sour cream and batter.
All mixed together.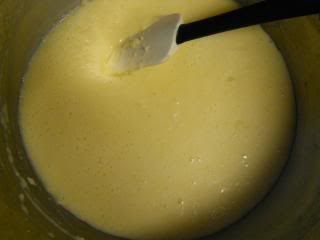 Fold in the flour, baking powder, baking soda, salt and blend well. Lastly, mix in the chocolate chips into the batter and mix well.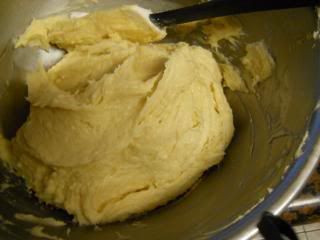 Remove 1/3 of the batter and mix in the chocolate paste in to it.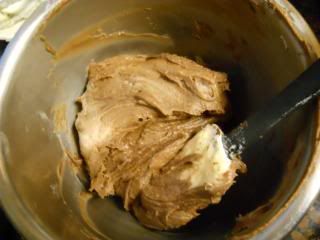 Spoon in big scoops of vanilla batter into the bundt pan and alternating with some spoons on chocolate batter as well to create the marble effect. Repeat till all the batter has been put in.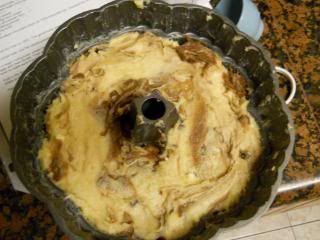 Place in the oven to bake for 35 to 40 minutes (I had to bake longer for some reason, it must be my oven temperature), depending on your oven. Bake till golden brown and the tester comes out clean. If the top of the cake browns too quickly, cover with foil first until done.
Once baked, remove from oven and cool on a wire rack for 15 minutes, before removing the cake from the pan and cooling it completely.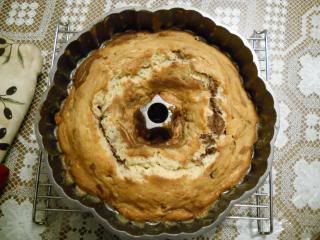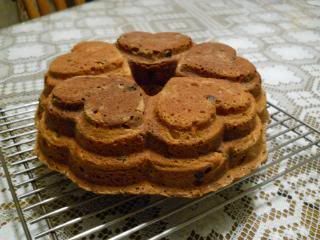 So excited, I wonder how the marbling will turn out.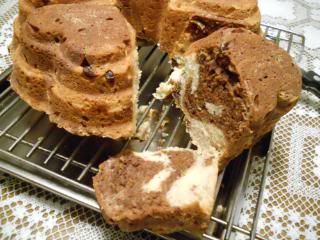 With the urging of my brother, I cut the cake before it cooled.
This is a keeper!