I made cinnamon rolls on 10/10/10. :) So "today", I decided to make cinnamon rolls after setting my eyes on a particular recipe by
Pioneer Woman
. I actually wanted to make this a few weeks ago, but I didn't feel brave enough, didn't have the time, and didn't want to make something so rich.

Cinnamon Rolls
Recipe from
Pioneer Woman
halved, makes around 20 rolls depending on width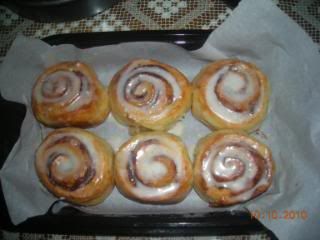 Ingredients
2 cups milk
1/2 cup oil
1/2 cup sugar
1.8 tsp instant yeast
4 cups of flour
1/2 cup flour
1/2 teaspoon baking powder
1/2 teaspoon baking soda
1 1/2 teaspoons salt (I used a bit less)
1/2 cup butter, use enough to spread over the whole rectangle and reserve the rest for the glaze
1/8 cup cinnamon
sugar, I directly sprinkled it onto the dough
So I halved the recipe and made 17 rolls, each were 1 1/2 inches thick.
First, I scalded the 2 cups milk, 1/2 cup oil, and 1/2 cup sugar. I mixed it together on medium fire and let it cook up until just before it boiled. By then, the milk started to look a little foamy. The oil isn't supposed to meld together with the milk even after you stir it, so if you see a layer of oil don't worry.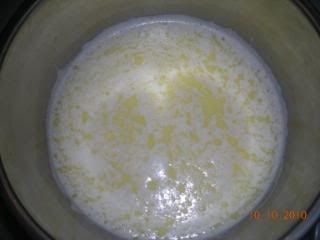 I had to let the mixture cool for around 1 hour or so, it was pretty hot today too.
I used instant yeast, also known as bread machine yeast, instead of using active dry yeast. I only used 1.8 tsp of the instant yeast which is around 1 tsp+ 3/4 tsp+ 1/8 tsp because instant yeast is more "concentrated" than active dry yeast.
Instead of letting the yeast sit in the milk mixture for 1 minute, I just dumped the yeast into the mixture and proceeded to mix in the 4 cups of flour without waiting. I think I might have miscounted the cups of flour, but I'm not sure. I used a 1/3 cup to measure out the flour and I wasn't 100% paying attention. I stirred it until the dough just came together.
Then I set it aside for 45 minutes because something came up and I had to leave the house. I was worried that the rising time wouldn't be long enough, but I had no choice but to quickly mix in the remaining 1/2 cup of flour, 1/2 tsp baking soda, 1/2 tsp baking powder, and the salt. After I quickly mixed/kneaded it in, I put it in the fridge to rise. I came back home after around 30 minutes or so and the dough was looking nice and soft. The texture of the dough actually reminded me of pretzel dough.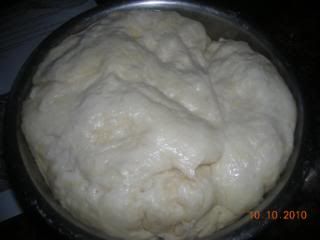 Then I punched the dough down a bit and started to roll it out into a 30x10 inch rectangle.
After that, I melted around a 1/2 cup of butter when the recipe called for around 1 cup, but 1 whole cup would be way too much. After it was semi melted, I commenced brushing it on the rectangle. Note: if you don't want the rolls to be too messy, don't totally melt the butter, just melt it enough so that it's semi solid but still easily spreadable and then I used a pastry brush to spread it.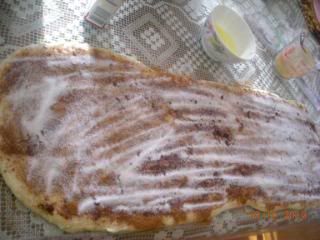 Sprinkle it with sugar and cinnamon. I first added the cinnamon and then I added the sugar. Actually, it doesn't even need to be measured out. I definitely didn't use one whole cup of sugar. After that, start rolling it up from the side that is farthest away from you. Roll it up tightly and then cut the roll into 3/4-1 1/2 inch pieces. I cut them into 1 1/2 inch pieces, so I had to bake them longer than the called for time.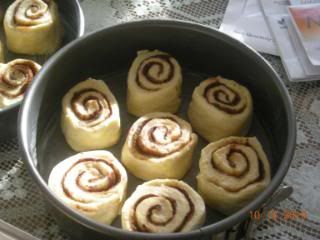 Put the rolls into a buttered pan and then let them rise for 20-30 minutes. I accidentally skipped that part because I wasn't looking at the original recipe, but my rolls still turned out. During the time they were baking, I was freaking out because I realized right then that I needed to let them rise when they were already baked for around 5 minutes.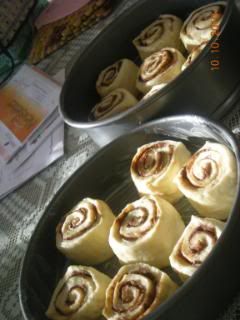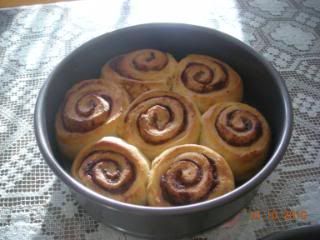 Anyways, they turned out alright even though I forgot to let them rise more. I also prepared the glaze by using up the butter that came from my original 1/2 cup that I didn't use up. I added a little less than 1/4 cup of milk and a whole bunch of confectioner's sugar. I didn't measure it, I just mixed and kept adding until I got the consistency I wanted.
I baked the rolls until they were golden light in color and took them out of the oven and cooled them and poured the icing on top. Let the icing set and tada, it's done.
Review: my brother rated it a 9.5/10 which is very, very good. He said to improve it I should make them bigger. =) My dad couldn't stop eating it and I was a bit worried for his health and I felt guilty, but I just can't stop baking when I have the time.
I baked them in a 9 inch pans btw.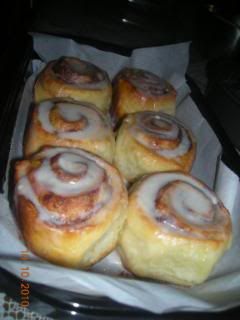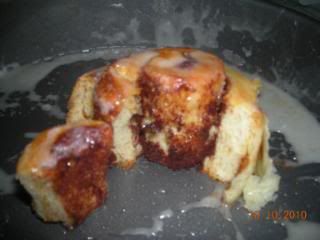 The texture was very good. Nice and soft. The icing was nice. Together, it tastes fantastic. It actually kind of reminded me of a donut.
More tips from:
1
Pioneer Woman
2
Bakerella
Variations:
Orange-Marmalade Rolls
Caramel Apple Sticky Buns
Chocolate Chip Cookie Sweet Rolls