This Saturday was so fun! (1/29/11) Chinese school ended early because there was a Chinese New Year fair. I really enjoyed walking around with my friend while looking at the fair. Everything there was outrageously priced, but that's because of the law of supply and demand in economy. :) One container of sushi (4) was $5! 1 slice of pizza was $2, 1 cotton candy was $2, and...you get the point. Toward the end of the fair, things were going on sale. Even though everything was overpriced I still had a great time. My friend E. and I decided to bake together at 3. She just finished her finals last week and wanted to celebrate by baking brownies.
I went to her house, so I brought some of the ingredients over. We made Jenny's Brownies, found on
Cookie Madness
. It was a simple recipe and it produced good results. We might have overbaked it a bit because it was a bit hard.
When I returned to home, I enjoyed some of the yummy nian gao that my mom had steamed for Chinese New Year. I ate sooo much. After that, I went to my Uncle's house and ate dinner there before going back home again. Then I made some blueberry muffins in a cinch as requested by my aunt. I haven't made those for such a long time! They tasted really soft, and they still stayed nice and moist the next day.
Jenny's Brownies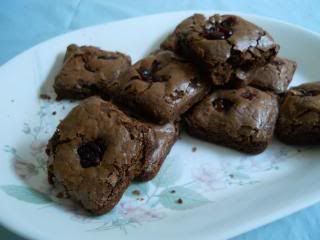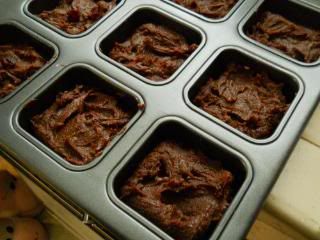 We topped them with some cranberries.