Here's the recipe as I promised, enjoy. I will be sharing several more in the coming days.
Red Bean Nian Gao 紅豆年糕
Recipe from my mom who learned how to make this from my grandma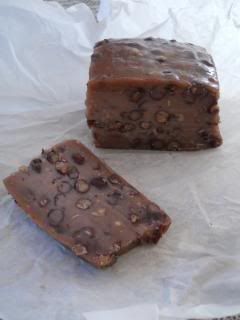 Ingredients
1 12 ounce package of red beans
1 16 ounce package of glutinous rice flour
1/2 cup sugar, more or less (to taste)
Water
Rinse the red beans twice. During the third "rinse", add water 4 times the amount of red beans.
Cook the beans on high fire. After the water boils, turn fire to low. After 30 minutes of cooking the beans on low fire, check from time to time to see if the beans are soft. When they are soft, add ½ cup or more of sugar until the red bean soup is sweet enough.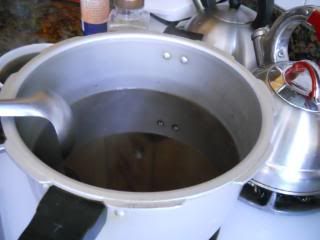 It will need to be sweeter than usual because when you add in the glutinous rice flour, the intensity of the sweetness will decrease. Stir until the sugar dissolves.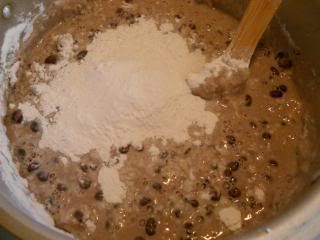 Wait until the soup has cooled somewhat. It shouldn't be too hot, otherwise the nian gao will start cooking once the glutinous rice flour is added in. Add the glutinous rice flour and stir. If the consistency is too watery, add a half bag more. The batter should be thick enough for you to make ribbons.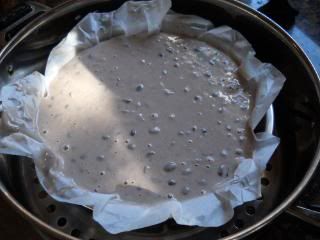 I recorded a very short video. You get to listen to my brother practicing playing piano too.
Pour the batter into a metal or steam-able container (stainless steel, ceramic bowl, etc). It can be any size or shape. Depending on your preference, you can directly pour the batter in the pan or line it with parchment paper for easy removal.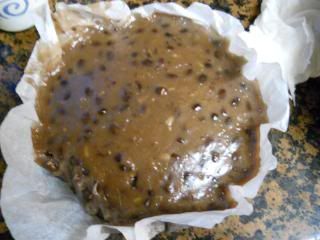 Steam for 30 minutes or until a knife stuck in the slab comes out clean.
The inside should be dark in color and it should not have white streaks.
Right after it is finished steaming, it will be very soft and sticky. Yum!
I couldn't resist eating it, look at all the edges that disappeared.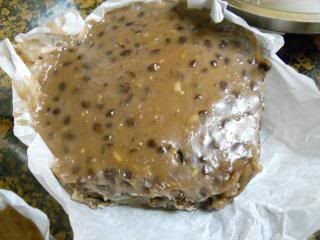 If 紅豆年糕 is left to cool overnight, it will harden. In order to achieve that soft, mochi like texture, microwave a few small slices for 10-15 seconds. Also, after it hardens, you may slice it into 1 cm thick pieces and make a pancake with them. I'll talk about that later.