I made these with using up my extra chocolate glaze in mind. I decided to try scooping two balls of the solidified glaze and plopping it into the cupcake batter to see how it would turn out. Seems like my idea was not the best because halfway into baking it, the chocolate was leaking out of the cupcake. It appeared like a volcano spouting lava. XD
Although the texture of my cupcakes was a bit dense, my friends still really enjoyed the cupcakes and ate 2 each. I think that if I mixed it a few strokes less, the texture would have been perfect.
I used up all my glaze (from the chocolate glazed donut muffins)!
Here's the
recipe
.
Wet and dry ingredients about to be mixed together....as usual, I overmixed. :( I seem to have trouble baking successful vanilla cupcakes.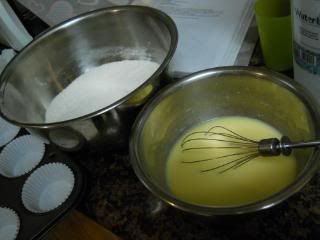 Here are the 2 experiments.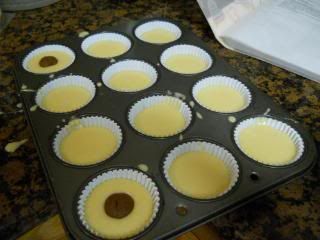 Look at that lava!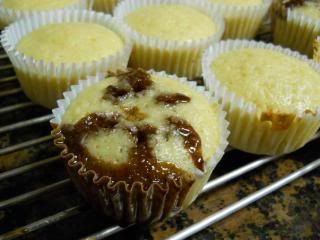 The texture shows a cupcake that is definitely overmixed.