After eyeing these cookies for quite a while, I finally made them on Christmas day. When I saw the recipe on
Dodol & Mochi
, I knew I wanted to make these cookies one day.
After a while, I inquired my mom to see if we had any green tea powder. She thought for a bit and said no. A few days later, when my mom picked me up from school, she surprised me by saying that she bought some green tea powder for me. I was ecstatic. My mom knows me so well and she always does so many things for me. I have come to take many things for granted, but now that I think about it, I'm so lucky to have such a great mom. Now that I mentioned my mom, it's only fair to mention my dad too. My dad is always so patient and hardworking. Thanks dad and mom!
The cookies were flaky. When you take a bite of it, the cookie gives in with such a nice feel. I don't really know how to describe them... But they also "melt" in your mouth. It's not too sweet and the green tea flavor is wonderful.
I didn't feel like taking out my hand mixer, so I hand mixed the dough. It took a long time to cream the butter and sugar together and then to get the matcha to evenly combine with the rich mixture, but after a while it all came together.
I took pictures of the process, but they disappeared somewhere.
Matcha Shortbread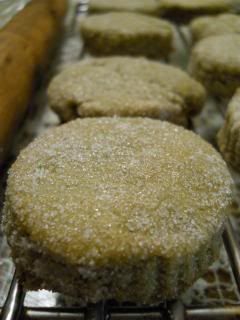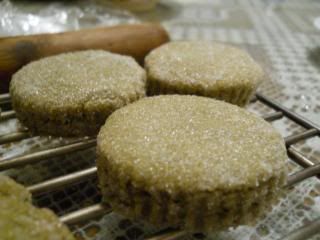 This is the whole batch of cookies I made.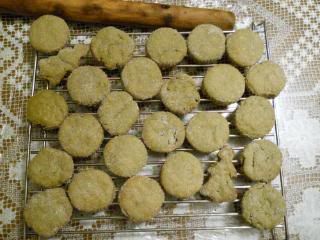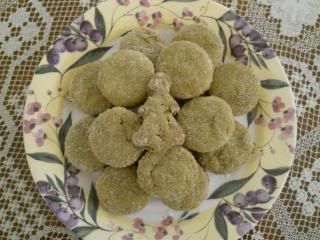 A lonely Christmas tree.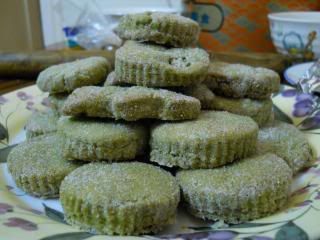 This plate of cookies quickly disappeared into the stomach of my family members.
Look at my hands glittery with sugar. Isn't the sugar so pretty? It kind of caramelized after baking, so I was getting it off the baking sheets.
I baked this tangzhong bread and shared it with some guests who came to visit my grandparents on Christmas day.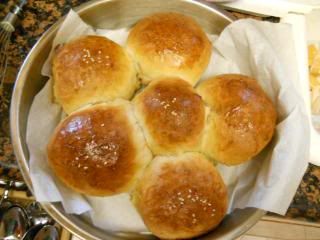 This time, I think I did something wrong so the bread was not as soft. :( Nevertheless, the guests all enjoyed the bread (luckily).