Whenever my mom makes red bean nian gao, she also makes a pancake sandwich with them. The pancake uses a very simple batter that takes a minute or two to prepare. Depending on your own preference, you can choose to make the pancake thick or thin. The pancake surrounds the rectangular slice of nian gao while it's being cooked, allowing the nian gao to slightly soften, resulting in a perfect balance of texture between the pancake and the nian gao.
Red Bean Nian Gao Pancake 紅豆年糕餅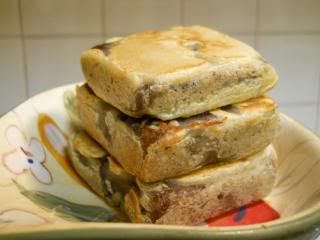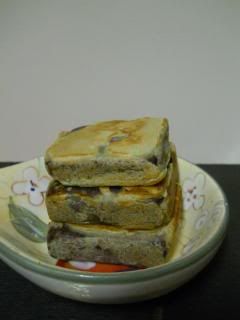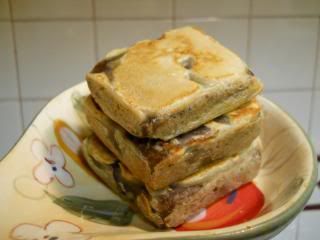 Ingredients
1/2 cup flour
1 tbsp sugar
1 egg
1/2 cup milk
additional water, if needed
red bean nain gao 紅豆年糕, sliced into rectangles
proportions are more for reference, the batter might need a bit more liquid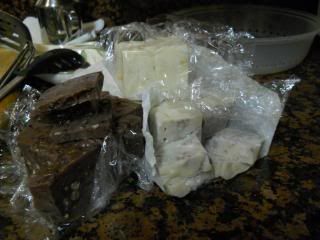 Mix together all the ingredients. Feel free to add more sugar.
While the pan is being heated with some oil, dip the slices of nian gao into the batter. When the pan feels hot enough, place each piece onto the pan and cook on medium heat, in order to avoid burning the pancakes and to allow the nian gao to soften.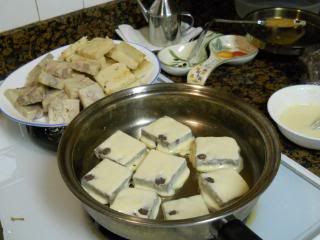 Cook the pancake for around 1-2 minutes on each side. Depending on how thick the layer of pancake batter is on the nian gao, the time to cook it will vary. I like a thin layer of pancake, so I don't drown the nian gao in the pancake batter.
Flip it to the other side.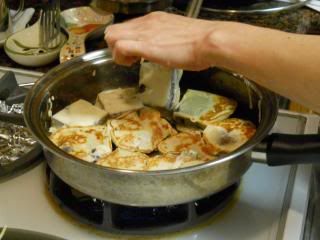 Then when you're done, you should have something like this...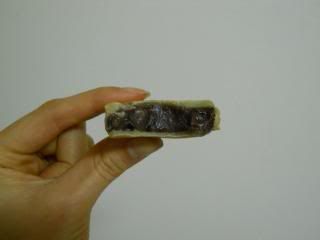 My mom likes making thicker layered pancakes, but I prefer mine thin-skinned. So in the picture above, that pancake has a thinner skin as opposed to the ones that are shown cooking in the pan.
I saw on
Keep Learning Keep Smiling
, Mary Moh's blog, that you can fry them with eggs too! What an interesting thought. I never tried it like that before; just thinking about it is making me hungry. Grub also suggested frying radish cake with eggs too. I'll suggest the idea to my mom. :)