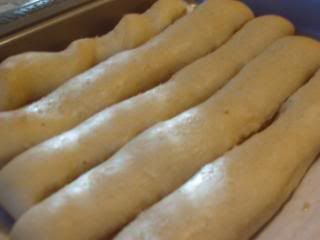 So today was my grandpa's death-day and my grandma invited my uncle and his family over to commemorate this day. I actually never knew my grandpa because I was born exactly a 1/2 year after his death. Anyway, for this day my grandma cooked a variety of dishes. I, on the other hand, made breadsticks.
These breadsticks are very simple to make and I was able to make them even though I am a beginner at bread making. I enjoyed kneading the dough, it actually has a very relaxing effect. If you're ever feeling angry or annoyed, you can also take out your anger on the dough. :) Afterward, you will feel happier.
Recipe
here
. Originally from
recipezaar
I have baked bread before, but today was my first time actually dissolving yeast. The recipes I used before always said, "Dissolve yeast in water/milk.", but I never actually dissolved it because I was too scared of killing the yeast. So when today I used hotter than normal water and the yeast started dissolving, I was like "Oh no!".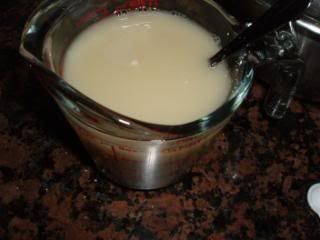 A close up of the yeast bubbling. It was soo cool!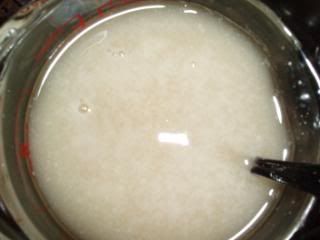 Luckily, yeast is supposed to do that. I used active yeast, so that's why I always dissolve it. In addition to adding yeast to water, I also added 1 tbsp of the brown sugar out of the 3 tbsp asked for in the recipe. So later on, I just added two tablespoons.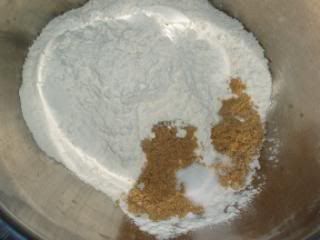 I stirred together the dry ingredients (flour, salt, brown sugar).
Then I added the sugar yeast water.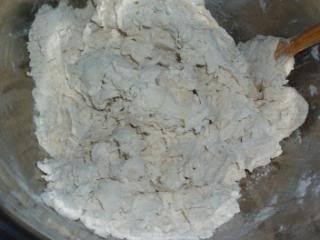 Stirred and stirred.
Then I added the vegetable oil and kneaded it in. The dough felt so smooth and nice.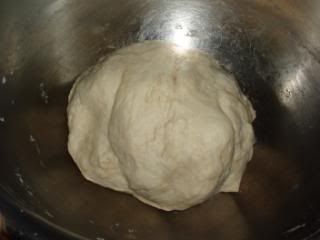 Leave to proof.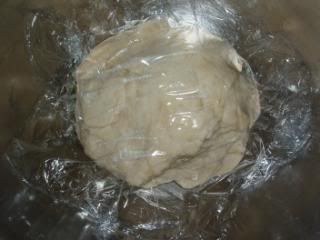 Punch the dough out to get rid of air bubbles and roll it out into a rectangle.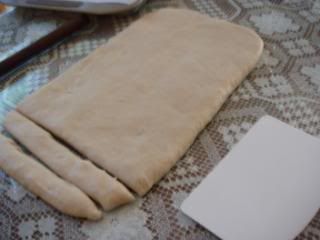 Cut dough into strips; I used a dough scraper to cut it.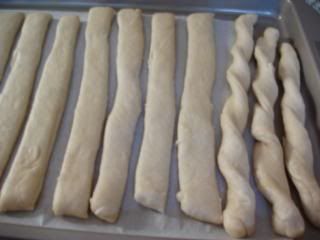 Shape the dough in strips or twists, depending on your preference.
Rest dough for 30 minutes. I took some precautions and covered the dough with saran wrap to prevent a crust from forming. I don't know if that really would happen, but I didn't want to risk it.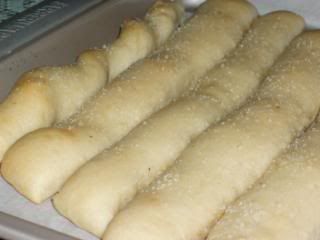 Bake and enjoy the delicious breadsticks.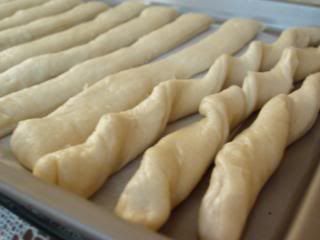 When the bread is done, it might not look it, so just quickly sample a piece in the middle (use food scissors or risk "burning" your fingers, don't ask :)If it isn't done yet, just pop it back in the oven. I also took this chance to brush the tops with butter and to sprinkle some garlic salt.
Notes:
Brush a generous amount of butter before serving, sprinkle some garlic salt on top of that.
or
Heat up some spaghetti sauce (bolognese preferred)and use as a dipping sauce.
or
Sprinkle some cheese, grated or powder and bake.
I also think that this breadstick dough is suitable for making pizza. This is way easier than making the "actual" pizza dough because you don't even need a pizza stone for this dough.