As a child, whenever I went to eat dim sum with my family I couldn't wait for the dessert. I loved the cute little umbrellas that they would stick in the jellos. In fact, sometimes I would get a jello just for the umbrella. That was the point in my life where I was obsessed with those little umbrellas; my dad even made an origami one for me. To this day I still have that umbrella. Anyway, today I'm going to share this jello recipe with you. My mom's friend told her how to make this recipe. Her daughter also happens to be a good friend of mine. :)
This type of jellos is common in Dim Sum places. If you have never went to eat dim sum, you should try it. When you go eat dim sum, you find people pushing carts with food. They give you a piece of paper that they stamp when you order a dish. It will be around 1 or more dollars each "dish", but I think it's worth it.
Coconut Red Bean Jello
*4 Packets Gelatin
*1 Can Coconut Milk
*1 Can of Red Beans
*3 Cups Water
*Sugar (optional because the canned red beans that I buy has a LOT of sugar)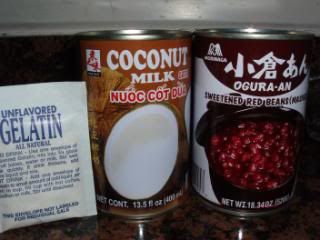 Directions
Pour one cup of lukewarm water into the measuring cup.
Pour all 4 packets of gelatin into the cup of water. Stir it around and let it sit for a while, around 1-2 minutes, to dissolve the gelatin. It should look a bit frothy and the water should become thicker.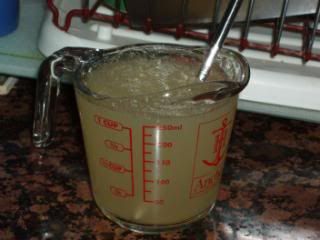 Open the can of coconut milk and can of red beans.
Pour two cups of hot water into a pan.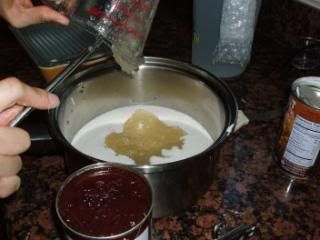 Add the coconut milk and the cup of water with the gelatin, mix.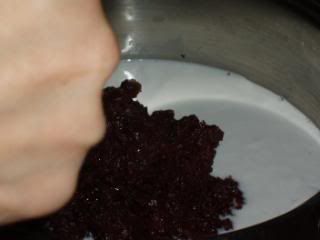 Add the can of red beans and mix.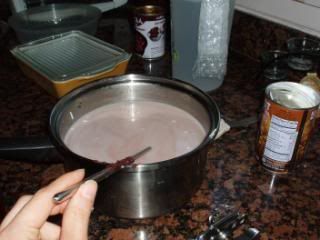 Pour it into another pan in which the jello can set.
Now there are two different choices:
1) a layered jello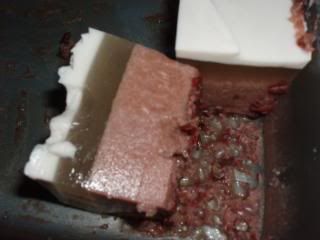 2) a uniform jello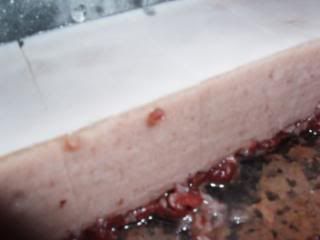 For a layered jello in which the red beans sink to the bottom, and the coconut milk rises to the top with the water in between both layers, just pour the mixture into the pan and let it sit at room temperature, after the jello has been given time for the mixture to separate, refrigerate it.
For a uniform jello, just pour the mixture in a pan and immediately put it in the refrigerator.
Mix the ingredients together.
Refrigerate.