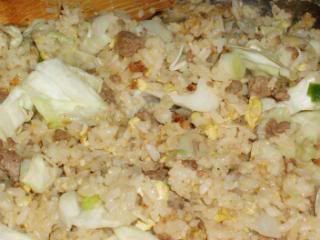 I made my first fried rice last Friday for a Chinese school project. I had to cook it the night before Chinese school, the next day it still tasted good even though it became 2 days old rice. Here's the
recipe
. As you can tell, I added a lot of veggies.
So I just followed all the directions and it turned out good. The only problem I had was the rice sticking to the pan...it eventually became this "chip". This is what happened.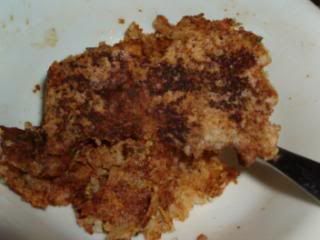 Now the step by step instructions.
First, I prepared the marinade.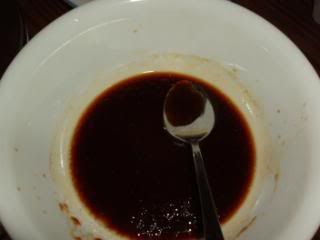 Here's the ground meat with the egg.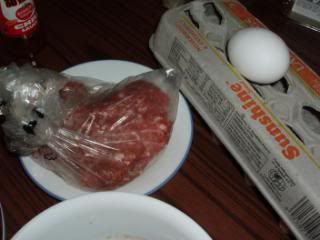 I then added the amount of meat needed for the recipe into the marinade and mixed it together.
Also, remember to refrigerate the cooked rice a day in advance, to ensure that your rice won't become soggy when it is cooked.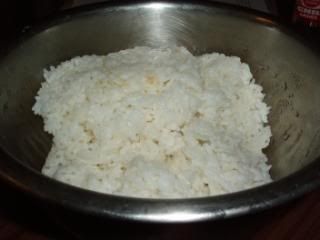 Then I heated up the pan and then added oil. When it was ready I started cooking the meat.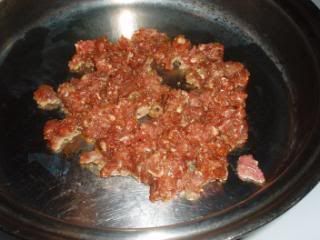 Keep cooking it until it's almost done, but not really.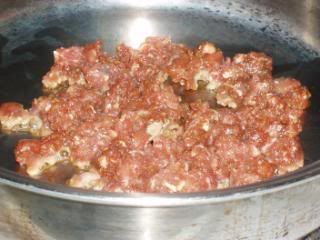 I realize now that I might have overdone it, but the overall product turned out fine.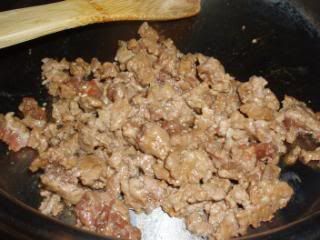 Put the meat in a separate bowl.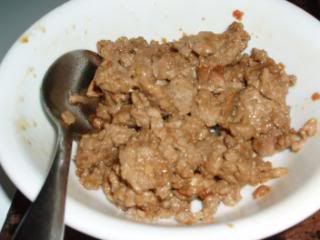 Prepare the veggies, I used cabbage and spring onions.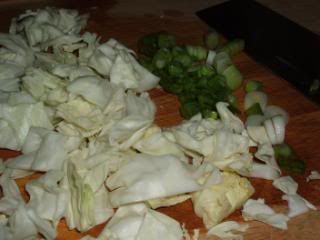 Cook the egg, and when the egg is almost done, add the rice. Mix.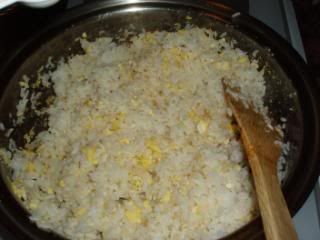 Add the soy sauce.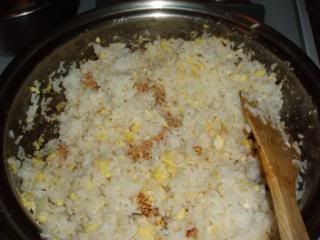 and the cabbage and meat.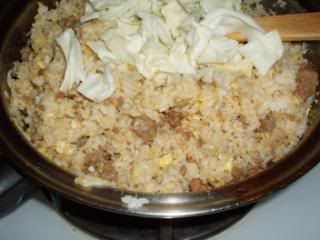 After I stirred in the cabbage I was worried that it wouldn't cook because it wasn't in contact with the pan. However, after a while it cooked, so don't worry if that happens to you. I am still a beginner cook though, so I doubt it will happen to other people. :)
Then, we're done! Yay! Mission accomplished.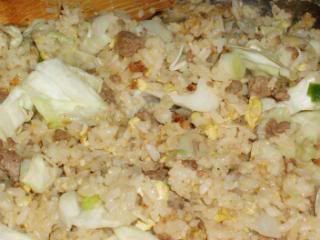 Funny short story: This rice was for the Chinese school project right? Well, the project was cook a dish, get the recipe, and give a report on how to cook it. It ended up with half the class bringing fried rice cuz it's one of the easiest thing to make. Lol