I was browsing for a recipe to use up my sour cream and I remembered this chocolate cupcake recipe that I bookmarked a while ago. After I made it, I was glad that I remembered this recipe. These are the best chocolate cupcakes I have tried baking so far; my brother rated them a 9.2.
The recipe resulted in denser cupcakes, with a deeper chocolate taste. The frosting was also very good, but mine were a bit grainy. Maybe you're supposed to use a mixer, instead of hand mixing? I also think I baked them longer than I was supposed to because although the cupcakes were really soft after I took them out of the tin, after they cooled down they developed "crusts" (only on the edges though). But after you let them sit out for a day, they become moist again.
I made this all the way back in February. Just this past Saturday I made a birthday cake for my brother. Looking back at this recipe, I'm surprised by the similarity between the cake recipe I used and this cupcake recipe. I'll be sharing that recipe tomorrow hopefully, my blog's 1st birthday! I was shocked when I found out that tomorrow is the anniversary, because I always thought I made my blog in May. How forgetful I am!
Sour Cream Chocolate Cupcakes and Chocolate Sour Cream Frosting
Recipe
from
Baking Bites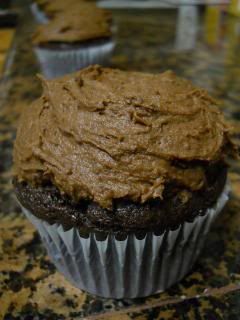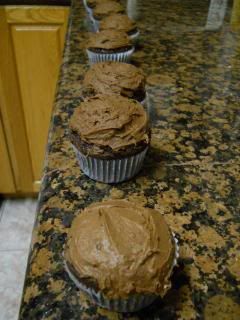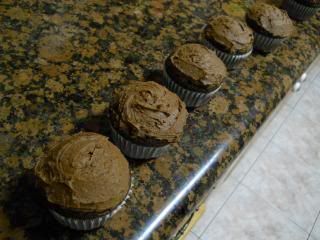 Note: You can reduce the sugar by 1/4 cup without any consequences.
Finished batter, as easy as 1-2-3.
Cracked tops....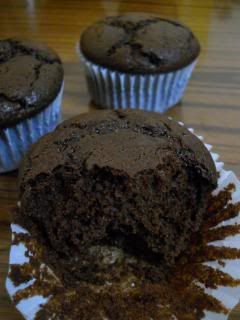 Making the frosting.
Melt butter and chocolate.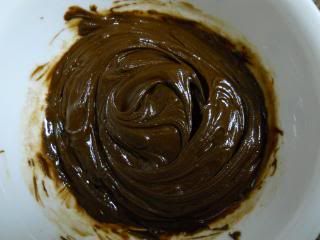 Add sour cream.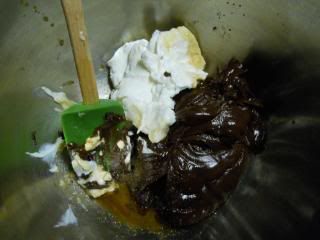 Done!