I wanted to make these buns after having my first taste of them from Oh My Buns! My grandma's brother's wife bought a few boxes of rotiboys and distributed it to each family. The bakery specialized in making these buns and once I saw how soft these buns were I really wanted to try making them myself. Whenever I see a delicious bread, I always want to hunt down the recipe and try it out.
As I was making this bread, I found it really difficult to knead the dough. It was very sticky, so I had to add a bit more flour. I also happened to use 220 gm of egg and milk. When the dough was rising, I was a bit apprehensive of the results because compared to the pictures on Hearty Bakes, my dough was toooo wet.
I started wondering whether I should make a topping or not. Doubt crept into me as I wondered if this bread would turn out successfully or not. In the end, I decided to make the topping because how can a rotiboy be a rotiboy without a coffee topping? I halved the topping recipe and found out that it was just right for all 10 buns I had. However, after baking them, the topping was too watery for me and slid off the bread too much. I think it's because of the egg I used; I used an extra large egg. I was a bit disappointed with how the bread looked. Maybe disappointed is an understatement.
Then my mom, dad and brother tried out the bread and they all liked it. My brother even rated it a 9, saying that it would be better if the topping had more flavor. I agree, the topping should have more coffee (I omitted the coffee paste). My dad said that it should be sweeter (I second that because I have a sweet tooth). My mom really enjoyed it. All in all, although the looks of this bread, for me, was not too appealing, you will enjoy this bread.
Note: It's soft because of the honey.
Rotiboys
Recipe from
Hearty Bakes
,
"Sweet Buns Recipe reference: 简单又好做小烤箱面包"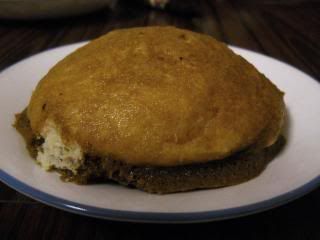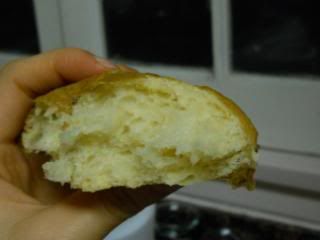 Basic Sweet Buns
300 gm bread flour
4 gm yeast
4 gm salt
1 egg + milk around 210-225 gm (I used 220)
50 gm honey
30 gm unsalted butter
Coffee Topping * I halved the recipe and was still able to cover all 10 buns
75g Butter, room temperature
60g Sugar
2 eggs
75g Plain Flour
* 1 tbsp Instant Coffee Powder dissolve in 1 tbsp warm water
* 1/2 tsp Coffee Paste
Jessie's note:
* Depending on your affinity for the richness of coffee taste, you may adjust the amount
Method:
♥Preheat oven to 180°/ 355°F
♥ Mix together the bread flour, yeast and salt.
♥ Add the egg and milk mixture and honey; knead until smooth.
♥ Then add the butter, kneading the dough until smooth and elastic.
♥ Proof the dough for around an hour or until double in size.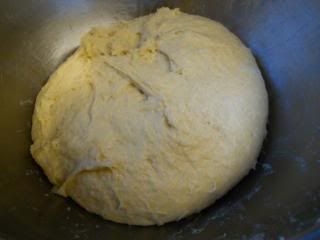 The time will vary depending on the weather.
♥ Punch down the dough, if possible (dough was too sticky for me to properly punch it down). Portion the dough into 60-70 gram portions. Shape them into balls and rest for another 10 minutes. I was able to make 10 pieces, although one piece was noticeably smaller.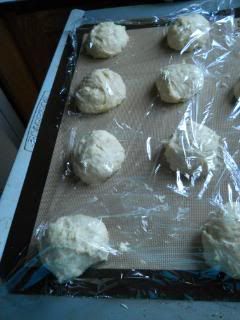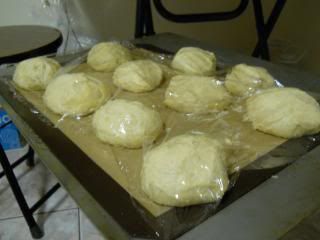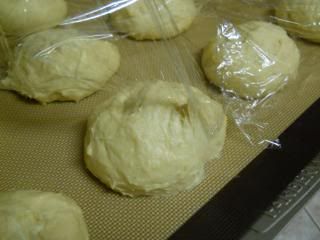 Sticky!
♥ Shape the buns and proof until doubled in size, another hour or so.
♥ For the topping, cream the butter and sugar until light and fluffy.
♥ Mix in the eggs, until uniform in mixture.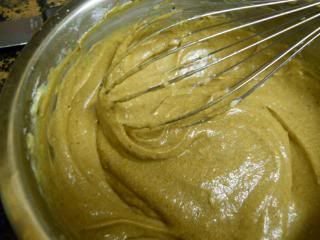 ♥ Add the flour, coffee mixture (optional), and coffee paste; stir well.
♥ Pour topping into a pastry bag or any small plastic bag. If using a small plastic bag, snip off a tiny corner. Pipe the topping in a swirl on top of the buns, reaching the middle of the buns. As the buns bake, the topping spreads and covers the whole bun.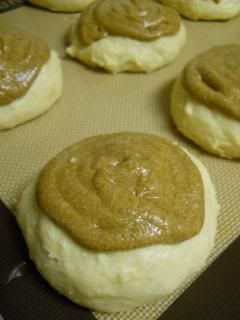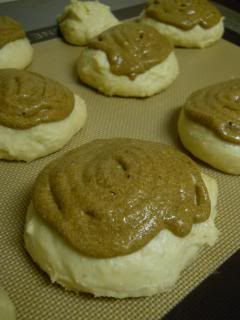 ♥ Bake for around 12-15 minutes or until the coffee crust turns a golden brown.
(Made sometime in March)