Happy New Year's Eve everyone! It's already the last day of 2010 which also means my winter break is going to end soon. :( This year zoomed by for me. So many things happened: applying to colleges, finishing my SATs, making my own blog, becoming more interested in baking, having my grandparents from Taiwan come and visit, and much, much more. I could mention more, but it would take too much time. I don't exactly have any resolutions for this new year because I end up not following them. Enough of my rambling, I hope everyone has a great year ahead of them.
I made these cookies once before, back when I didn't have a blog. I brought them to a church gathering and I remember this guy being very disappointed when the cookies ran out. I made these again for my youth group Christmas gathering. I got the recipe from
allrecipes.com
and slightly adapted it to my own tastes.
Actually, here's my review from a year ago:
This cookie is literally the best chocolate chip cookie i have ever made. It looked like it was store bought. all the cc cookies i ever made turned out kind of pale or cakey. these cookies taste nice and chewy. My brother even rated them a 9.6 out of 10 (that is a pretty high rating based on his tastes) You should definitely use this recipe. What I did was use a little lesser white sugar (so that it wouldn't be too sweet), use a little less butter (so it wouldn't be too fatty),and use the same amount of everything else other than the chocolate chips. For the chocolate chips i used about at most a half cup. DO NOT use the full amount of chocolate chips unless you like your cookies being full of chocolate chips. I then used a tablespoon to spoon out the dough onto the baking sheets. Afterward, you should kind of "smush" them so that they are flatter and not round. Otherwise, they will stay round. This cookie was the best cc cookie recipe i ever tried!
I love the easiness of making this cookie. All you have to do is get all the ingredients and quickly mix it together. I didn't feel like using a hand mixer so I just hand mixed the ingredients together to make these cc cookies.
Chewy Chocolate Chip Cookies
From allrecipes.com, adaptations are noted in parentheses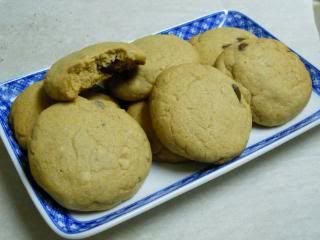 Ingredients
2 cups all-purpose flour
1/2 teaspoon baking soda
1/2 teaspoon salt
3/4 cup unsalted butter, melted
1 cup packed brown sugar (I used a little more than 3/4 cup)
1/2 cup white sugar (I used a lot less than 1/2 cup)
1 tablespoon vanilla extract
1 egg
1 egg yolk
2 cups semisweet chocolate chips (I used 1/2 cup)
Directions
Preheat oven to 325*F. Grease cookie sheets or line with parchment paper.
Sift together the flour, baking soda and salt; set aside.
In a medium bowl, cream together the melted butter, brown sugar and white sugar until well blended.
Beat in the vanilla, egg, and egg yolk until light and creamy. Mix in the sifted ingredients until just blended.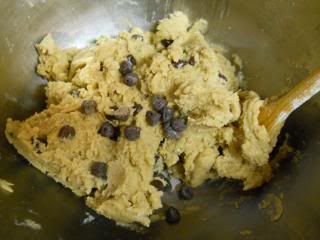 Stir in the chocolate chips by hand using a wooden spoon.
Scoop out 2 tablespoons of cookie dough at a time and roll into balls. Place them around 2 inches apart on the cookie sheet. Flatten them slightly before baking.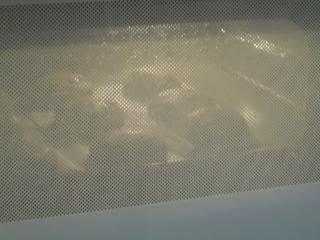 Bake for 20 minutes in the preheated oven, or until the edges are lightly toasted.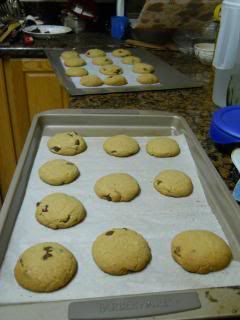 Cool on baking sheets for a few minutes before transferring to wire racks to cool completely.