I saw this recipe on
Wendy
's blog all the way back in July. I was really interested in making it for my mom's birthday, but then I changed my mind and made a sponge cake instead because my mom prefers sponge cakes over cheesecakes. I still haven't blogged about the sponge cake I made because apparently sponge cakes are not my thing.... I tried out one sponge cake recipe 2 times and it was successful on the second time. I tried another recipe once, and it majorly deflated. The texture of that cake was nice, but the cake was around 1.5 inches tall.
I decided to make this cheesecake for my own birthday instead. I was very, very worried because after my bad experience with sponge cakes, I surmised that cakes are not my thing. Especially cakes that require egg whites and egg yolks in order to make it all light and fluffy.
I made it through though!! After 2 hours spent in the kitchen mixing the batter and stuff, I accomplished mixing what seemed like a successful cake.
I ran into several problems along the way, which I will go into detail later in this post.
The cheesecake was tasty. My aunt, uncle and parents remarked that it tasted just like the one's from the Chinese bakeries. I have to agree. :) Thank you
Wendy
for this great recipe.
I found out that I don't really like this type of cake though.
The day I made it, and I tasted it, I found out it was a bit too dense for my liking. But when I tasted it the next day, it became more delicious! So I would recommend that you refrigerate it first before serving. A warm cheesecake does not taste good, no matter how fresh from the oven it is. (That's just my opinion.) Also, my brother said that the bottom was a bit soggy, but that was because of the moisture that it got from cooling down in the pan on a really cold day. (around 57 degrees) The cake didn't taste soggy when I ate it the next day though, so I don't know.
Japanese Cotton Cheesecake
Recipe
from
Wendy
(Table for 2...or more)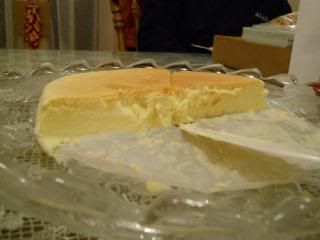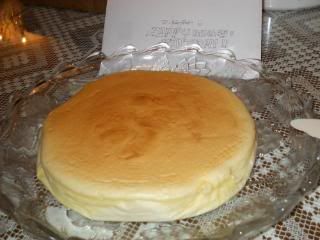 Ingredients for a 9" cake pan
166 gm cream cheese
120 ml milk
20 gm butter
40 gm flour
32 gm cornstarch
4 egg yolks
While separating the egg yolks and egg whites, some of the egg yolk dripped into the egg white. I was starting to worry again because I read somewhere that egg whites should not be "contaminated" otherwise it will be hard to get them all nice and fluffy.

I carefully used a small spoon to spoon out the yolk part and only tiny, barely noticeable traces of egg yolk were left. whewf...
4 egg whites
a pinch of salt
1/8 tsp cream of tartar and a few more pinches (I eyeballed it)
100 gm sugar
Cook cream cheese, milk, and butter on low heat in a heavy saucepan. Mixing the mixture until it is smooth and uniform. (I used a wooden spoon, a whisk would be easier)
Boil some water to prepare for the water bath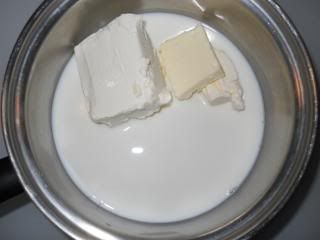 When the cream cheese mixture is warm, the flour and the cornstarch can be whisked in. Whisk the mixture until smooth.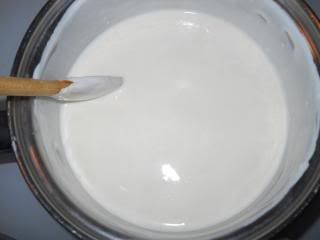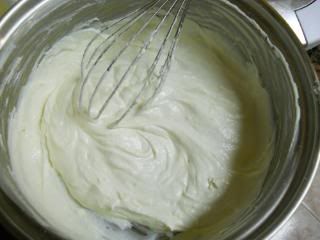 Add the egg yolks into the cream cheese mixture and whisk until uniform in mixture.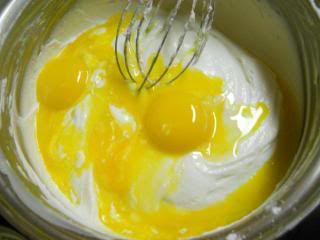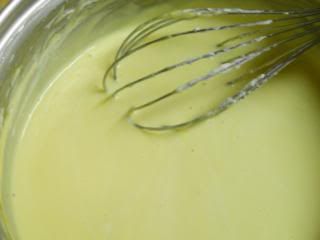 Beat egg whites until frothy in another CLEAN bowl. Add the cream of tartar and beat until the egg whites have soft peaks. Then gradually add in the sugar and beat until the egg whites are stiff, a soft droopy peak that will hold its form)
Now, mixing the egg whites... it took around 10-15 minutes to get it the way it had to be. I used cold egg whites.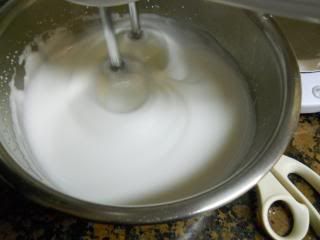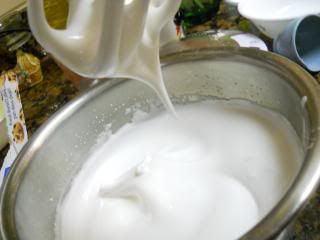 Fold in 1/4 of the egg whites into the cream cheese mixture. Then fold in another 1/4. Now, pour the cream cheese mixture into the remaining egg whites and fold.
While folding in the batter, I was very nervous because I was scared that the egg whites would deflate. I learned that you first add some egg whites into the other batter to kind of temper it. So that when you add it back into the egg whites, it's easier to fold together.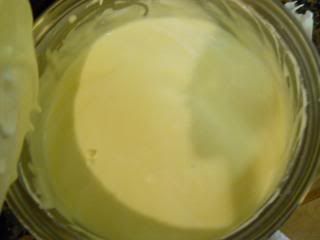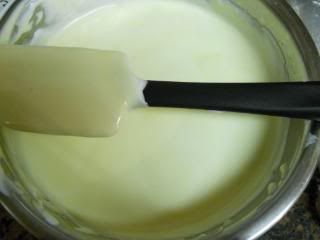 Pour the batter into a prepared pan.
I was planning to use a spring form pan, but
water leaked into it because apparently my wrapping technique was not up to par. As a last resort, I just used my regular 9 inch cake pan to bake this cheesecake in the water bath.
Bake at 320*F for around 1 hour or so, until the top is golden.
I had to bake this for around an hour because I used a 9 inch pan instead of the recommended 8 inch pan. I also increased the recipe by 33% as recommended by Wendy if I wanted to use a 9 inch pan.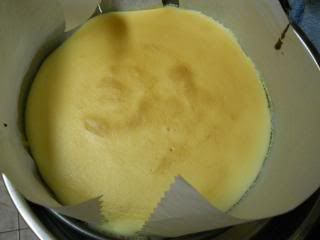 Other variations:
1
2
3