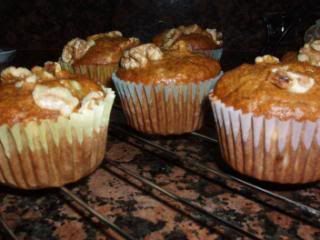 I got this recipe from
allrecipes.com
. My adapted version is shown below. The instructions are very similar to the original recipe with a few personal touches. When I first started baking banana bread, the most time consuming part was mashing the bananas. Just mashing them would take me 20-30 minutes! After that, everything else was easy. Now I have discovered an easy solution, and that is to mash the bananas with a fork. If you don't have ripe brown-speckled bananas, but still want to make banana bread, all you have to do is bake your yellow bananas in the oven at around 350 degrees Fahrenheit and they will quickly ripen. I learned this tip from
The America's Test Kitchen Family Baking Book
. Just know that you can't do that with green bananas, it just doesn't work.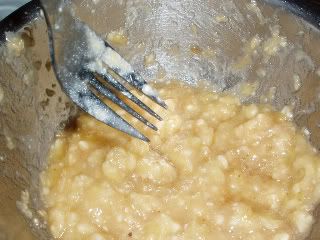 Ingredients
* 1 1/2 cups all-purpose flour
* 1 teaspoon baking soda
* 1/2 teaspoon salt
* 1 teaspoon cinnamon
* 3/4 cup white sugar
* 2 eggs, beaten
* 1/4 cup butter, melted
* 3 bananas, mashed
* nuts to taste, coarsely chopped
Directions
1. Line two 7x3 inch loaf pans with parchment paper. Preheat oven to 350 degrees F (175 degrees C).
2. In one bowl, whisk together flour, soda, salt, cinnamon, and sugar. Mix in slightly beaten eggs, melted butter, and mashed bananas. Pour into prepared pans. Sprinkle coarsely chopped nuts on top of the batter.
3. Bake at 350 degrees F (175 degrees C) for 45 minutes or so, until a wooden toothpick inserted in the center comes out clean.
I sprinkle the nuts on top because you toast the nuts that way and you can actually taste it. If you mix it in with the batter, the nuts will be lost inside. Hope you enjoy this recipe. :)
The consistency of the batter will look like this.
The finished product.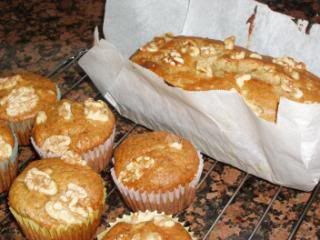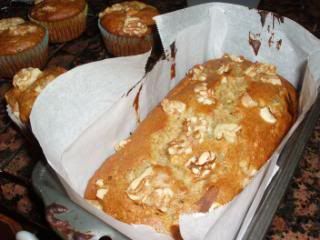 I just love taking pictures of them. :)