My aunt made some more mochi one day and brought some over to my house and shared a few with my family. There's a twist, instead of using red bean paste, she used mashed purple yam for the filling. Because making red bean paste is very time consuming, she tried out this new method recommended by her friend. I think this new flavor tastes really good. It doesn't have the "feel" of red bean mochi, but if you are in a bind and crave mochi with sweet fillings, go ahead and try this out. So here is the mochi she made, along with the simple recipe.
For the quick and easy mochi recipe with a video tutorial, click
here
. Continue reading for the yam filling's recipe.
Purple Yam Mochi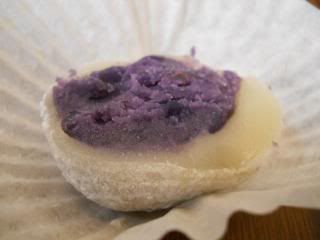 The second one is yam too, but the lighting was a bit off. This one was rolled in dessicated coconut instead of potato starch.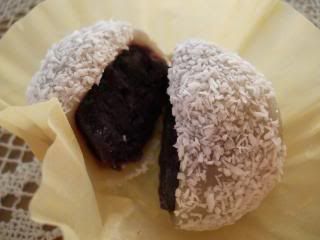 Red Bean Mochi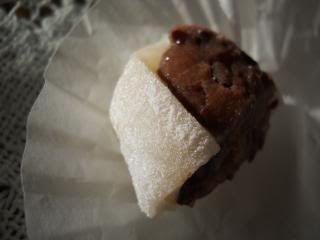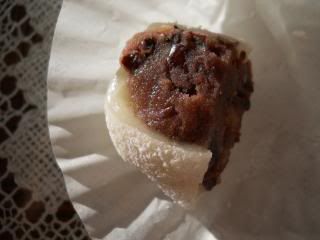 Yam Filling
Ingredients
1 Purple Yam (amount actually depends on how many mochi you want to wrap)
sugar, to taste
Wash the yam and steam until you can easily poke a knife through. Don't steam too long, otherwise it will become mushy in a bad way. Mash and add sugar to taste. Now wrap filling in mochi.
The two mochi in the middle have a coconut topping with a yam filling.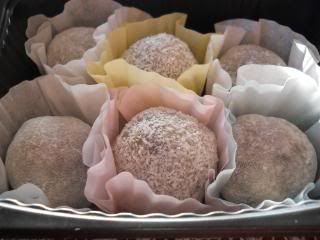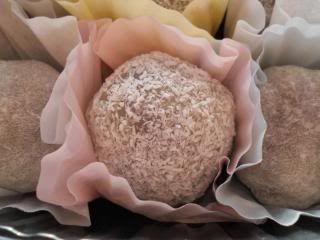 Another variation would be black sesame paste, just like the ones from dim sum.