When I was little, my mom would cook this pretty often. However, now we only eat this once in a while. The ingredients below are estimates because my mom adds ingredients by eying the amount, not measuring like me. Hopefully, I will learn how to cook one day without measuring ingredients. Sorry, but I don't know the English name for this dish...so my translation may sound a bit weird.
小牛牌 Little Ribs
Recipe from my mom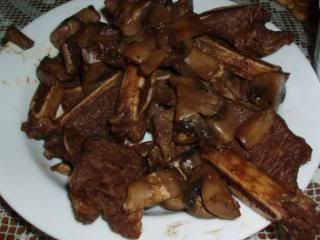 some ribs
BBQ sauce or black pepper sauce -2-3-4 tbsps
Soy sauce around 1 tbsp or more, depending on the amount of meat
Directions
Cut ribs, get rid of the fat by peeling it off. If there is too much fat, cut it off with a knife.
Marinate the ribs for around 30 minutes in the BBQ sauce or black pepper sauce. Use enough sauce to marinate all the meat.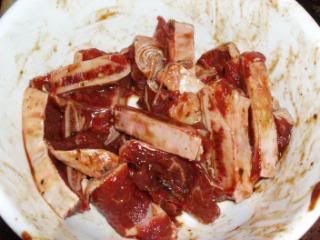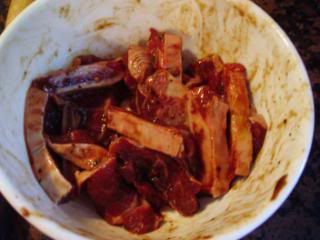 When cooking it, no oil is needed for the pan because there will be a lot of fat coming out.
Add the meat to the pan by laying it on its side. Cook on medium heat for a few minutes so the meat won't become tough.
Cook on one side for a few minutes, then flip over to the other side.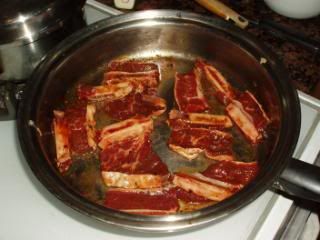 Then cover the pan with the lid, checking from time to time to see when it is done on that one side. After it is done on that side, flip it over to continue cooking. This will only take a few minutes and then you're done!
The remaining sauce leftover from this dish is good for noodles. Just cook and drain the noodles, then mix the sauce with the noodles.
Btw, these pictures were taken with the old camera, before it died.