When I saw Happy Home Baking's tuna heart buns, I knew that I wanted to make some too. They were sooo cute! So after a few weeks or days (I forgot how long) I finally made them. For some reason, the bread I'm making these days all have sticky dough, so it took me forever to knead the dough and I had a hard time shaping the dough into hearts later on, but I tried.
Here's
the recipe for the buns.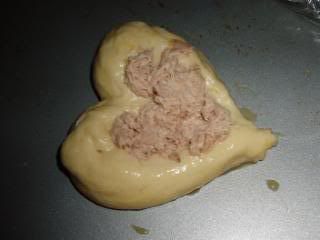 Actually, I made this bread a long time ago during the summer, but I haven't gotten around to posting about it until now.
My thoughts on the recipe: The dough was hard to knead for some reason. It took me a really long time. The end result, however, was really good! I loved eating it. It just tastes like the basic bread they sell at Asian bakeries. The bread was soft and the crust was a bit crunchy. (I probably baked it a little too long.) I loved eating it because of the bread. I didn't like the filling as much, but that's only because I don't like mayo with tuna anymore so I skimped on the mayo. Before, I loved eating mayo and tuna sandwiches, but now I realize how much fat there is and how unhealthy it is to eat a lot of mayonnaise. Anyway, I digress, if you haven't tried out this recipe yet and you like eating savory bread you should try this.
Super sticky dough!
Portioned out and resting.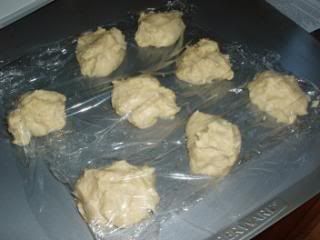 Here they are shaped and rising.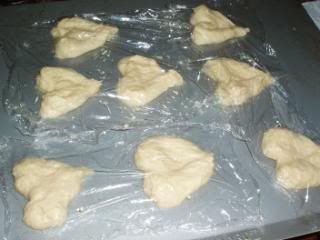 I put the filling in. I didn't have any of those dried parsley.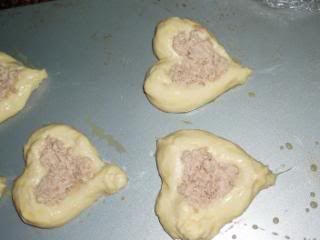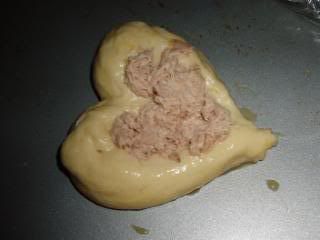 <3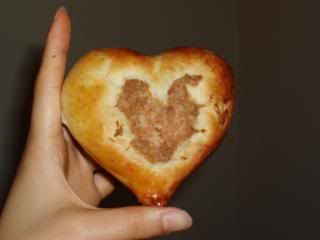 That's how big they were.
L<3ve them. L for love :) I made them while I was also making cream puffs. It was a bit stressful because I found out that the baking times and temperature was different. As a result, I had to leave the puff's batter in the bag for a while.