I made these marble spritz cookies with my cousin. They are a variation of my
pressed sugar cookies
.
I got the original recipe from
Williams-Sonoma
and apparently it was "Adapted from Williams-Sonoma Kitchen Library Series, Cookies & Biscotti, by Kristine Kidd (Time-Life Books, 1993)."
Marble Spritz Cookies
Makes 40-60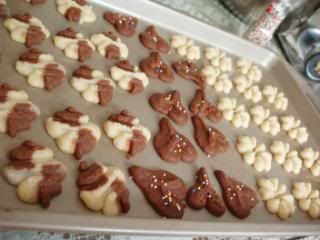 12 tbsp (1.5 sticks) butter, room temperature
3/4 cup sugar
1 egg
2 1/2 tsp vanilla extract
1/2 tsp salt
2 1/2 cups sifted all-purpose flour
2 1/2 to 3 tbsp cocoa powder (for the divided dough)
sprinkles, optional
Directions
Preheat oven to 375°F.
Cream butter and sugar in a large bowl with mixer on high speed so that the mixture is light and fluffy. Add in the egg, vanilla and salt and continue beating the mixture until the ingredients are evenly distributed. Add in the flour by beating it in, stirring it in, or kneading it in. It doesn't matter. I just first beat it in, then knead it so that the dough won't stick on my hands then. Stop when the dough comes together.
Divide the dough in two and add 2 1/2 tbsp to 3 tbsp of cocoa powder into one of the dough. Knead the powder in, add more powder if you want a more chocolaty taste. At one point, you can't add any more or else the dough will be too dry and it will become too difficult to "press it out".
Put the dough into your cookie press however you want to. Put the shape you like onto the press and start pressing out the dough onto a baking sheet. Parchment paper is not needed because the cookie is oily enough not to stick on the pan. Decorate your cookies with sprinkles if you wish to do so. Make sure to press them on so they don't fall off.
Bake the cookies at 375*F for around 10-15 minutes. So that the cookies are slightly golden. Move cookies to wire rack and cool. May be stored in airtight containers for a couple of days.
Note: I prefer not to "marble" the dough before putting it in the press because when it comes out of the press it will look a bit disgusting. So if you have a cookie press, just put the dough in without mixing it.
If you do not have a cookie press, you can still make these cookies. Just shape them with your hands or use cookie cutters.
I also reserved some dough for one flavored cookies.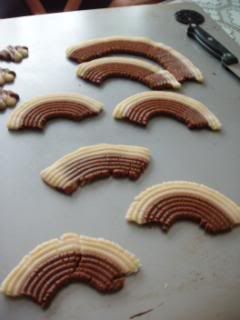 Inadvertent rainbows. :)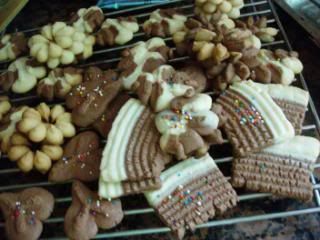 Lots of cookies.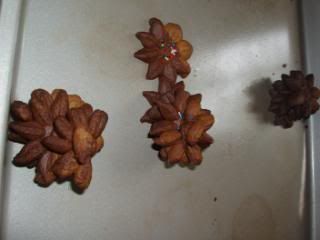 I burned one batch. :( I was washing the dishes and forgot. How sad.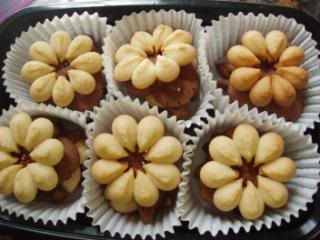 I bought some to marching band camp in cupcake liners, hehe, just like those Danish butter cookies.