As you know, my family is a big lover of scones. If you didn't before, now you do. =D From the first time I made scones to the many other times after that, I have always used one recipe, the one from my Williams-Sonoma Sweet Treats book. Sure, I might have substituted some ingredients like evaporated milk for heavy cream, but I have never tried another scone recipe until today. I was only looking for a way to quickly use up the leftover sour cream I had from the black bottom cupcakes I made recently, when I stumbled upon this recipe. I bookmarked it immediately and finally made it today. (August 27)
Click
here
for recipe.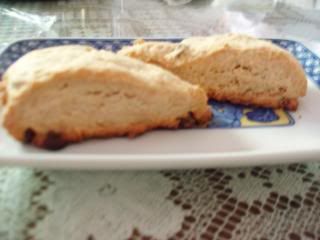 Btw, sorry for the terrible quality picture.
The texture of the scones were amazing. My grandma and dad loved these scones. They said it tasted much better than the scones I made before. The brown sugar gives these scones a surprisingly nice grainy texture between bites. Grainy might be a negative connotation when it comes to food, but it was perfect for these scones. What I mean is that you can still kind taste the brown sugar, it just adds to the already good scone. Also, right from the oven these scones were really nice and fluffy you could say. I gave some to my friend C. and her mom said that they tasted better than the bakery's scones. So thanks to Anna from Cookie Madness for this recipe.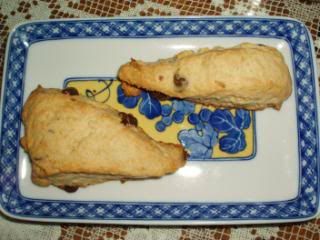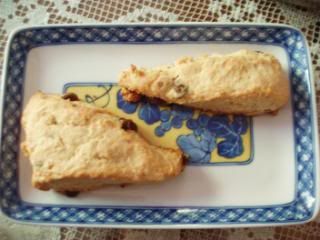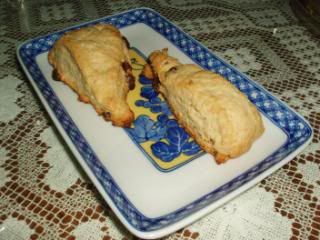 Different lighting makes a big difference. And oh no, I think I might have broken the camera. That or it just broke suddenly. The zoom lens won't retract back in. :(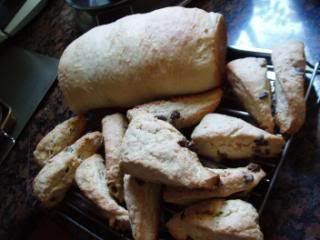 I made that awesome bread again!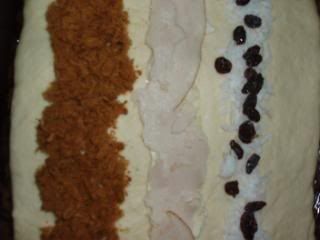 This time I tried it with 3 fillings. Pork floss, turkey and swiss and coconut and raisin.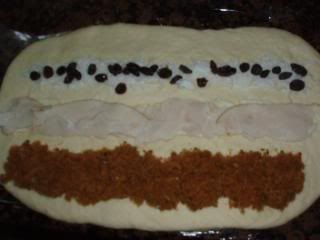 Update about school:
Wow, school is so busy already, at least it is for AP calc. There is so much hw for Calculus it's scary. Or more specifically, so much time spent doing the hw. English, a class I thought to be easy, is actually harder than I thought. The teacher is new and she's giving a lot of hw. Oh well, I'll survive. Now, there isn't a lot of weekend hw, but there is still a good amount. Spanish is taking me longer to finish than usual, as expected from an AP class. I already can't wait for the summer to come, haha. I get to go to Taiwan then as a graduation present and visit my grandparents and a few cousins there.