I finally decided on which camera to get! I kept my Nikon L22. It's working out pretty nicely.
I made these cupcakes yesterday (10/29/10) and they were really easy to make. At first, I was a bit confused about the instructions because the instructions said to whisk liquid into flour ingredients, I wasn't sure if we were supposed to pour the whole thing in the large bowl and whisk or add a steady stream of liquid while mixing.
The problems I encountered during the process of making this cupcake was I lost count of how many 1/4 cups of cocoa powder I had added in. I seem to be pretty absentminded these days! I couldn't even remember if I had put 2 or 3 quarter cups. As a result, I just had to end up kind of guessing how many cups I had put in the mixing bowl.
The batter wasn't as runny as I thought it was going to be. The cupcakes baked on the top rack rise higher than the ones baked on the lower rack. After they have baked for half of the required time, the middle of the cupcake might look like it's sunken, but if you wait until the timer goes off, they will be fine or a bit flat, depending on the rack you bake the cupcakes on.
The cupcakes were moist and they had a very loose texture. Soft and not too sweet.
Easy Chocolate Cupcakes
Recipe from
Baking Bites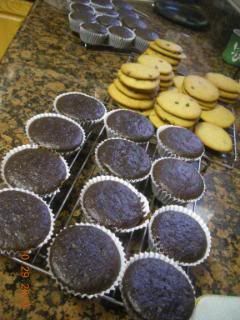 3/4 cup unsweetened cocoa (I forgot how much I used)
1 1/2 cups all purpose flour
1 1/2 cups white sugar (I used 1 1/3 cups sugar)
1 1/2 teaspoons baking soda
1/2 teaspoon baking powder
1/2 teaspoon salt
2 large eggs
3/4 cup water
3/4 cup buttermilk
1/3 cup vegetable oil or melted butter (I used vegetable oil, it made life so much easier)
1 tsp vanilla extract
2/3 cup mini chocolate chips (I didn't use any)
Preheat oven to 350F. Place liners in 2-12 cup muffin tins.
In a large bowl, whisk together cocoa, flour, white sugar, baking soda, baking powder and salt until thoroughly mixed.
In a medium bowl, whisk together eggs, water, buttermilk, vegetable oil and vanilla extract. Whisk into flour mixture until all of the ingredients are mixed in and no streaks of flour remain. Add in optional mini chocolate chips, if using.
So basically I just added a little bit of the wet ingredients into the dry ingredients and started mixing, then I realized it's ok if I poured the whole thing into the large bowl and continue whisking then. So yea, I ended up pouring the entire contents of the medium bowl into the large bowl instead of whisking in little by little. I'm not always the best at interpreting instructions so maybe I just over thought it.
Fill muffin cups evenly with the prepared batter.
Bake at 350F for 15 minutes, or until a toothpick inserted into the center of a cupcake comes out clean, or with only a few crumbs.
Remove cupcakes from the pan and cool completely on a wire rack before frosting.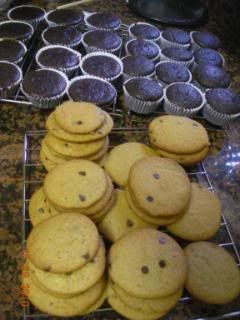 I made my
thin and crispy cc cookies
again. Actually, I made both of these things for a band comp that was the next day.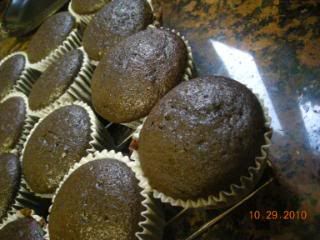 A close up pic.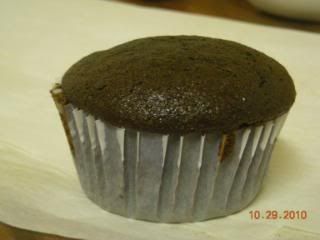 One of the cupcakes that was baked on the higher rack.