Sorry for not posting for such a long time. I did bake these past few weeks, I just have not been able to get the pictures that I took because I borrowed my Uncle's camera. Recently, some things I made are black bottom cupcakes, hotdog buns, chocolate cupcakes, thin and crispy chocolate chip cookies, Von's pound cake!, and that's about it. I'm going to post about Von's awesome pound cake soon, as soon as I get the single picture for it. I'm also going to get a new camera soon. Actually, my mom bought one for me already, but I'm not sure if that is a good model or not so I'm still deciding. I'm debating between getting a
Nikon Coolpix S4000
,
Canon PowerShot SD1300IS
or keeping the
Nikon Coolpix L22
. Any suggestions? My favorite color is pink, but I don't know which camera is better. I'm getting sidetracked now... anyway back to my post about nian gao. By the way, thanks for reading that super long paragraph.
My mom used to make this for our family when I was little, back in elementary school. I remember coming back from school and finding this cake in the kitchen. After seeing it there, I would always be so happy. Then after a while, she stopped making it. I just recently asked her why and she told me that she had made it so often that everyone got sick of it. I also found out that back then, everyone was making it because it was really easy to make, really cheap, and a great gift for people. A gift as in when you're visiting someone, someone's sick, etc etc. I really missed eating this cake and didn't make it until now (Oct 31). I don't know why it took so long for me to ask my mom for the recipe, but here it is. I hope you enjoy the recipe. :)
So after making it, I ate around 1/4 of the cake. Ekks, pretty scary! It was sooo good and I did not eat it for such a long time that I couldn't control myself.
The crust tastes crispy and the middle is chewy, just like mochi. So a crispy crust with the chewy inside balances everything out and makes a great "cake"! In terms of sweetness, it was just right. It was not that sweet, so if you like really sweet dessert, you might want to add a little more sugar.
Baked Nian Gao 烤年糕
Recipe from my mom's friend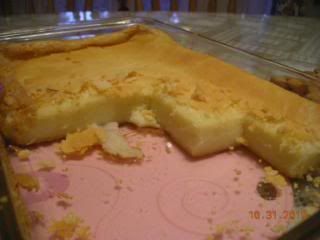 1 lb glutinous rice flour
1/2 cup sugar
3 Eggs
1 tsp baking powder
1 tsp vanilla extract
2 1/2 -3 cups milk (Add more milk if you want it to be softer, less if you want it to be chewier. I used 2 1/2 cups milk)
1/2 stick butter, melted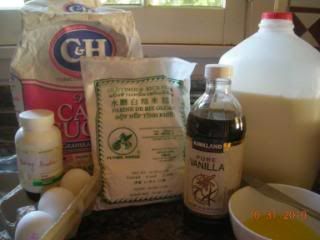 Toppings: red bean paste, walnut, raisins (Optional)
Bake at 350*F for one hour.
Easy way: Dump all the ingredients in one bowl and mix together until uniform. Pour into a 9x13 pan and bake at 350*F for one hour.
What I did: Whisk together the glutinous rice flour, sugar and baking powder in a large bowl. Melt the butter and warm up some milk. Mix the butter, vanilla and some milk together and add into the large bowl. Add the rest of the milk and then add the 3 eggs. (I did this so that way the butter would not solidify due to the coldness of the milk. Of course, it would not matter if your milk was at room temperature though.)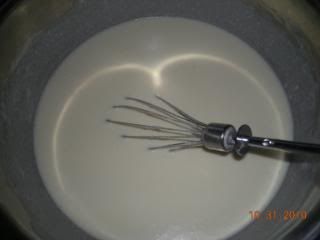 Whisk everything together. Keep on whisking until the batter is smooth and there are no lumps. Pour batter into a oiled glass pan. I don't know how it will turn out with a metal pan, but you can try.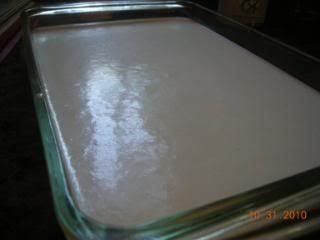 Bake at 350*F for one hour, so that the crust become golden brown and puffy. After that, take it out of the oven and cool or eat it while hot. :) The cake will deflate a bit, but that's normal.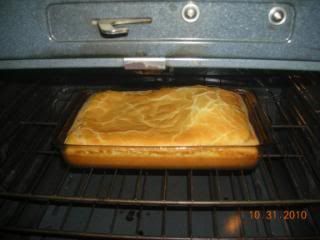 Btw, you can half the recipe and bake in a smaller pan.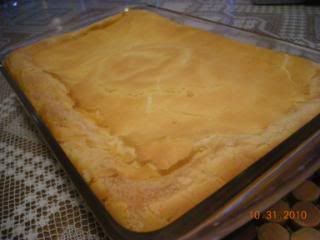 It deflated!
I got a few pieces.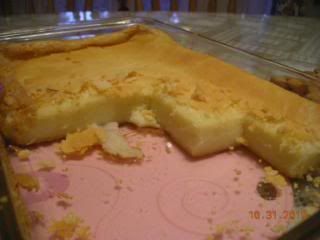 My family ate a few. So quickly eaten! This was on the same day. Within a few hours too. Everyone missed the nian gao.
For the toppings, sprinkle raisin and walnuts into the batter if you want some.
For red bean paste, my mom said you are supposed to bake it for around 1/2 hour and then somehow spread the red bean paste onto it and then put it back into the oven to continue baking it for another 1/2 hour. My aunt's sister also made this variation before and I think what she did was put a portion of the batter inside, bake, add red bean and pour the rest of the batter on and finish baking. I'm not 100% sure though. If you feel adventurous, do try it out and tell me how it goes. Thanks :)
Serving suggestion: Cut into squares and serve. If a day or 2 passes and the cake is not finished yet, very unlikely but possible, just get the portion you want to eat and microwave for a few seconds to achieve the nice, chewy texture.