I have been so busy with school and college apps recently, but now it's Thanksgiving break! I plan to turn in my college apps on Friday and from then on I will be blogging much more often. Also, marching band has come to an end...forever. No more high school marching band! I'll miss it so much. However, there are some advantages of that: sleeping in one hour and having more time to do homework.
I have always wanted to try baking the savory bakery breads for lunch and I finally got around to it. (11/7) I found the recipe on
Sugar & Everything Nice
. Looking at the beautifully twisted hot dog bread made me want to bake this bread really much. The only problem was that I didn't have any hotdogs. Well, that problem was soon solved after I went to the market to buy some. I always knew hot dogs were bad for you, but after seeing the nutrition facts I am so shocked and disgusted. One hot dog has around 30% dv of fat! That's terrible, however, moderation is key.
I was able to make this bread while overcoming a few minor problems. One of them was the temperature in my house was too cold. I thought I killed the yeast because the dough hadn't risen even after 1 hour. With the dough, I made 8 big buns instead of the suggested 22. They turned out as big as my hand. In terms of texture, they were really good fresh from the oven. However, after freezing it, you can't just unfreeze it and eat it, you have to rebake it in order to get a good texture, otherwise the bread will taste really dry and icky. (I think this is the case with all bread, but still.) I thought the bread was a bit too salty, so next time I will adjust the salt content. Everything else was fine I think.
Caterpillar Bread
Recipe adapted from
Sugar&Everything Nice
.
I made 8 pieces of bread.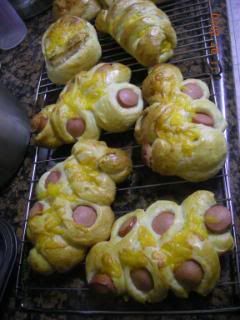 Basic Sweet Bun Dough
3 cups (480g) bread flour, sifted
1 1/2 cups (120g) all purpose flour, sifted
1 packet rapid rise yeast (I used instant yeast)
8 tablespoons (110g) granulated sugar (I used 104 grams, like that makes a difference)
300ml warm milk (about 105F)
1 egg
1 tablespoon salt (I would use 3/4 tbsp next time)
5 tablespoons (60g) of unsalted butter, room temperature
Hot dogs of your choice (I used chicken because it was healthier)
Shredded cheese (I just used cheddar cheese that I sliced into thin strips)
Directions: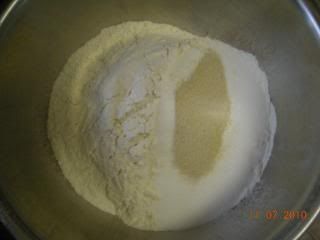 Whisk together the sifted bread flour and all purpose flour.
I sifted the bread flour and all purpose flour together.
Add the sugar and yeast, whisk together. Now, whisk in the salt.
Add the warm milk and stir the ingredients together until it starts forming a dough.
My dough was very, very dry and not all of the flour was mixed in yet. I was starting to get a bit worried.
Then, whisk the egg and according to the recipe, add the butter and mix together.
I whisked the egg and then just added the butter, but the butter wouldn't mix with the egg or it wasn't soft enough, so I just dumped them into the dough and mixed. Now, the dough was starting to come together and turning very, very wet. Then there were lumps because of the hard dough left over from my attempt to knead in the left over flour. Luckily, after kneading the dough for a while it softened and wasn't as wet. It was still a bit too sticky, not overly so. So I added a bit of bread flour and it was just right.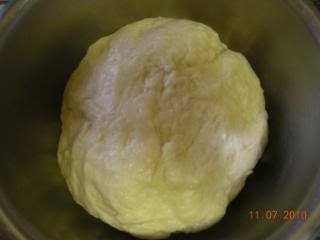 Knead dough until elastic. Then proof the dough in an oiled bowl for around one hour or until doubled in size. Cover the bowl with plastic wrap to prevent a skin from forming on the dough.
When the dough is finished proofing, if you press a finger into the dough the indent should stay there.
I proofed it for one hour and nothing happened. I thought I killed the yeast with the tbsp of salt. I then realized that the temp was too cold b/c it was 60...only after my mom told me. I was freaking out and i thought oh no !! what am i going to do with all that dough now...i never failed so epically before. Anyway now it's fine. Whewf.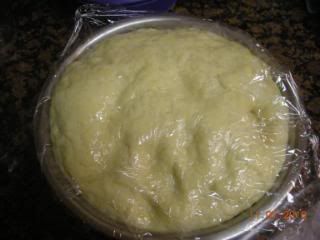 After proofing for two hours.
Shaping dough:
I divided the dough into 130 gram pieces or something like that. Rest them for 10 minutes and then start making the shapes you want the bread to be.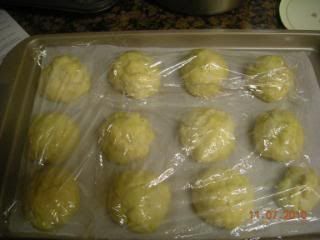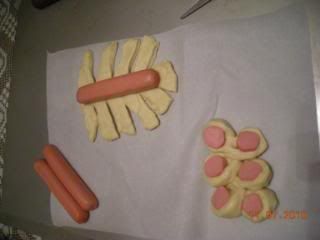 I used half of a hot dog for some buns so that way it wasn't too unhealthy.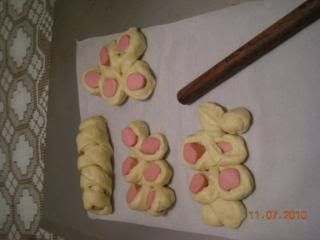 One plain bun and two others with ham. Later on, all the buns had a cheese topping.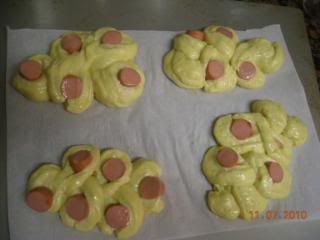 Egg wash was brushed on.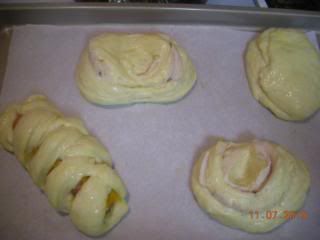 After shaping the dough, it still needs to be proofed.
I ended up shaping the dough in several different ways.
Ideas:
Braided hot dog bun from DailyDelicious
Bun with ham and cheese swirls from Everybody Eats Well in Flanders
Flower shaped buns from Angie's Recipes
They didn't work out for me because I wasn't able to make it flower shaped. Definitely harder to do than it looks.