Dorayaki are basically a sandwich of two pancakes with a filling inside, usually red bean paste. They are also known as 铜锣烧 aka tong luo shao. These are one my childhood favorites. Whenever my mom goes to a certain supermarket, she will always buy a few for me. I barely ever go to that supermarket, but when I do it's very fun to watch the people make those dorayaki. I was looking through many different blogs to find a dorayaki recipe and I decided to use Angie's recipe because I had all the ingredients on hand. :) Yay! I was a bit anxious about using this recipe because I tend to have problems with recipes that need whipped eggs to attain a cake like texture. I still persevered though, and it was successful.
Although it took quite a while to make it, it was only because this was my first time using this recipe. It took me a bit longer to cook the pancakes, but I quickly learned the trick to it. Just use one tablespoon of batter and cook for a minute or 2 and wait for bubbles to emerge before flipping it over. For the first few pancakes I had a problem with the middle layer being a bit raw, but that was soon solved after I got the hang of it.
Click
here
for the recipe.
I'm only going to list the ingredients and the amounts I will use next time. Please refer to Angie's blog to get the
directions
. The directions are very clear and easy to understand.
2 eggs, room temperature
50 grams sugar (original called for 80 grams)
120 grams cake flour (I had to use ap flour with cornstarch again)
1 tsp baking powder
1/4 tsp baking soda
30 ml milk
1 tbsp honey/caramel (I used honey)
100 grams red bean paste (recipe called for mung bean aka green bean)
For the amount of sugar, I wasn't sure if I could reduce it, but I asked Angie and she said that it was ok and it wouldn't adversely affect the texture of the dorayaki. Next time, I'll definitely reduce the sugar.
The dorayaki tasted like those sold in supermarkets. Fresher of course, but they had the same Japanese taste if you get what I mean. I really enjoyed eating them.
Whip the eggs and sugar until they look something like this.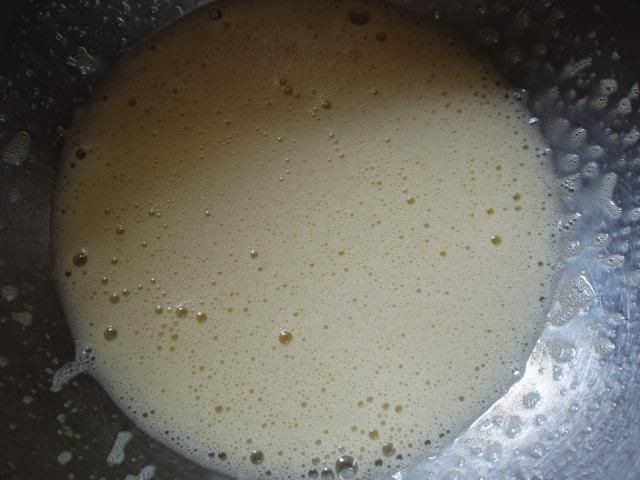 Prepare all the dry ingredients and whisk them together.
Sift them into the egg and sugar mixture and fold the batter.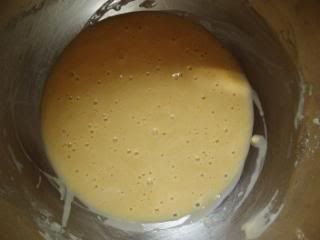 After the batter is set aside for 30 minutes, there are bigger air bubbles.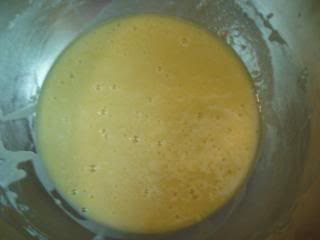 Spoon some batter onto the hot and lightly oiled pan.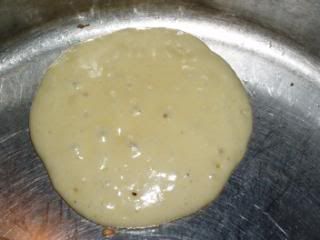 Cook for a minute or two, it depends, until bubbly then flip it to the other side.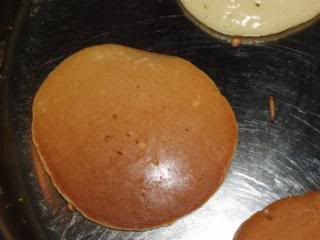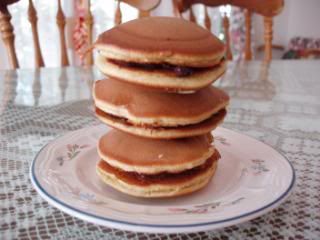 Spread red bean paste onto pancake and put two pancakes together and you get a dorayaki.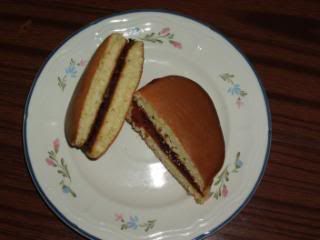 See the nice texture?
Ok, maybe it's not that clear, but oh well.
Note: When you sift the flour into the sugar and eggs, you will hear a slight deflating sound, don't worry though, everything will be alright.
For folding in the dry ingredients, please refer to
this
link to help you out. Christine's Recipes' blog really helped me learn how to do that. :)
Another note, don't make this if you are short on time.
Have fun!