Cream cheese frosting is a great companion to red velvet cakes. This frosting melts on your tongue and is very easy to make.
Cream Cheese Frosting
Recipe from America's Test Kitchen Family Baking Book
Note from the book: do not use low fat/nonfat cream cheese b/c the frosting will become too liquidy. The frosting won't be good on a 3 layer cake because it has a softer and looser texture compared with other frostings. Also, if the frosting is too soft, just refrigerate until firm.
Makes 3 cups (enough for 24 cupcakes)
Ingredients
12 ounces cream cheese, softened
6 tbsp unsalted butter, cut into chunks and softened
4 tsp sour cream
1 tsp vanilla extract
1/4 tsp salt
1 3/4 cup confectioner's sugar
Directions
In a large bowl beat together everything except the confectioner's sugar, aka powdered sugar on medium high with an electric mixer until the mixture is smooth.
Reduce speed to medium low and add in the powdered sugar and beat until smooth. Adjust speed to medium high again and beat the frosting until it is light and fluffy.
Frosting can be refrigerated in airtight container for as long as 3 days. When ready to use, put frosting in room temperature until softened ~1 hour and then whip again with beater (medium speed) until smooth ~2 minutes or less.
Note:I quartered the frosting recipe because I was only planning on frosting like 6 cupcakes or so, but I was able to frost 8 cupcakes.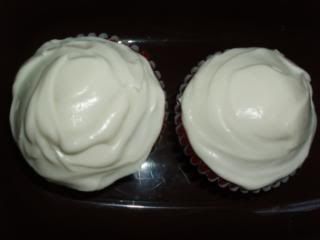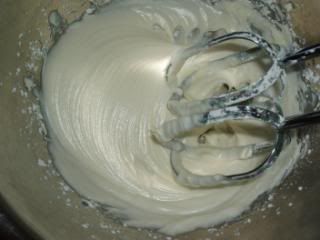 The texture of the frosting. Very light and fluffy. I think I forgot to take any other pictures, oops. But the instructions are very easy to follow, so no worries.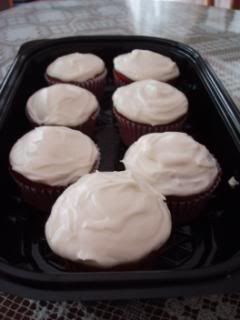 The frosting was enough for 8 cupcakes. The picture only shows 7 frosted cupcakes, but my brother ate one. :3