The first time I ever made quesadillas was during the summer before freshmen year in high school. I was taking a cooking class at my high school for summer school. In that class, I learned how to make several new things and I discovered a new food that I had never heard of before and that food is one of my favorites now (spam musubi). I'll share the recipe another time, when I get to make it. But today, I have the quesadilla recipe. Actually, my brother made these for Father's Day and I helped (to his annoyance b/c I became too bossy). He's currently taking the cooking class and I think he enjoys it.
Chicken Quesadillas with Avocado & Pico de Gallo (fresh salsa)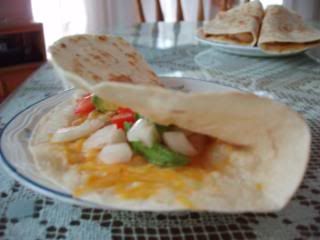 Quesadillas
Serves 4, 2 each
Ingredients
8 tortillas
around 1 1/2 cups of grated cheese
around 2 cups of cooked chicken cubes
1/4 avocado, sliced (optional)
butter, to spread on the tortillas (optional)
Directions
Cube chicken and just cook it.
Butter one side of each tortilla, if you don't want too much fat, just don't butter the tortilla.
Prepare the avocado by cutting it in half, twisting the 2 halves to separate them, using the knife technique to extract the seed, then quartering it lengthwise. Lightly slice each quarter into lengthwise strips.
Now, heat the pan. If you like using butter, butter the pan, if not, use something like vegetable oil. Personally, I dislike using to much butter, so I just use vegetable oil to oil the pan and I do not butter any of the tortillas at all. Put one of the tortillas on the pan, once the pan is heated up.
Start adding cheese to one side of the tortilla. The amount of cheese you put is actually up to your own tastes, that's the good thing about making these yourself. If you like cheesy food, add a lot of cheese, if you just like a little, put a little. After a few seconds or so, the cheese will start melting and then you can add a portion of chicken onto the quesadilla. Fold the quesadilla in half and you're basically done.
When the tortilla is crispy and the cheese is all melted, the quesadilla will taste really good. They are really easy to make and you can give the recipe a twist by adding chunks of pineapple with bbq chicken, or steak with cheese, it basically works with anything. :) Serving them with salsa will make this a very delicious and easy meal.
Pico de Gallo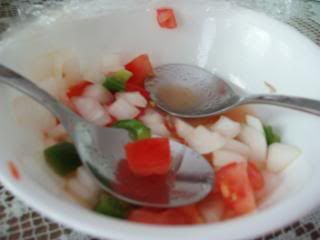 Ingredients
1 tomato
1/4 onion
1/3 bunch of cilantro
[1 jalapeno chili]
1 lime
a pinch of salt
Directions
Dice the tomato and onion, put in a small bowl. Add in the coarsely chopped cilantro leaves to the bowl. Add in chopped up jalapeno if you like spicy stuff. First slice it lengthwise and remove the stem, membranes and seeds. Squeeze the juice of one lime into the bowl and add one pinch of salt. Mix around and you're done.
Tip: Rolling the lime around on the table top while pressing down will make it easier to squeeze out the juice because the cells of the lemon will break down.