These biscotti were nice and crispy. They weren't super hard and they make a nice snack or dessert. The almond smell is really nice and the smell of biscotti pervades the house while it is baking. The recipe makes around 30 cookies or so. On the day that I made them, my great aunt happened to come over with some ice cream and I was able to give her some. My aunt also came over and I gave her some as well. :) I went over to my aunt's house later on that day and my aunt and her family said that they liked the biscotti very much. My little cousin even wanted to eat more! These biscotti are cute, so they make good gifts too.
Oh yea, I almost forgot. You have to toast some nuts for the biscotti. To toast nuts all you have to do is put them in a pan on medium heat making sure to shake the pan every once in a while so the nuts won't burn. This will take around 3 to 6 minutes. When the nut's aroma wafts up, the nuts are done toasting, or just taste one to make sure. It's supposed to be crunchy and tastier too.
Almond Biscotti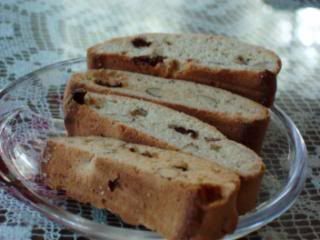 Adapted from
America's Test Kitchen Family Baking Book
2 cups all purpose flour
1 tsp baking powder
3 tbsp butter, room temperature (I used salted, if using unsalted add ¼ tsp salt)
¾ cup sugar
2 large eggs (I always use extra large eggs)
½ tsp vanilla extract
¼ tsp almond extract
¾ cup almonds or less, toasted and then coarsely chopped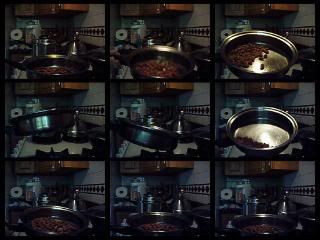 This was how coarsely the almonds were chopped.
Preheat the oven to 350*F.
Whisk together the flour, baking powder and salt (if using).
Cream the butter and sugar in a separate bowl until it all comes together, uniform in mixture. Add the eggs one by one, beating them in. After the eggs are mixed in, add the vanilla extract and almond extract. Mix until the extracts are evenly distributed.
Add in the flour mixture slowly while mixing. Keep on mixing until it forms a dough. Then, add in the almonds and your own choices (cranberries, chocolate chips, etc.) if you want and mix until the "toppings" are evenly distributed. The dough will be a bit tough to mix so use a spatula.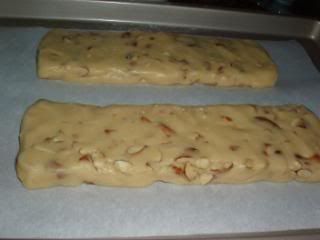 Then, divide the dough into two and mold them into 13 by 2 inch rectangles on parchment paper. Lightly flour your hands to do this, so that the dough won't stick. Make sure to keep some space between the 2 rectangles so that they won't bake into one piece. Bake at 350 degrees for around 35 minutes. The top should look done and a little bit cracked. Rotate the tray after 15 minutes into baking the biscotti.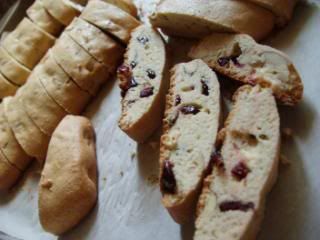 Take out the tray with the baked biscotti logs and cool on tray for 10 minutes. After that, use a serrated knife to cut across the log so that each biscotti piece will be a ½ inch thick.
Bake the pieces on their sides at 325 degrees for around 15 minutes. Make sure to flip the pieces over after baking for around 7 minutes, that way both sides of the biscotti will be nice and crunchy, but not rock hard. Take the biscotti out of the oven and cool them on a wire rack for about one hour. I just ate them right out of the oven.
The biscotti are this big.