Recently, I just started college!! It's definitely a new, exciting experience to go through. College is somewhere that people have to become more independent. The teachers now don't remind you to do your homework and things like that. They now expect you to do everything and if you don't do it, a bad result on a test is what you get. So after starting school back in September 22, I was "busy" with other things like getting used to college, dorm life, and making friends. School isn't that hard, at least not as hard as I expected. I'm enjoying school life I guess. I'm dorming and I have two other roommates. We get along really well. :) I'm have lots of fun with them; they always make me laugh. Also, my hall activities are pretty fun too. Since I'm in an all-girls hall, the only all-girls hall in my school, my whole hall is pretty close. We even had a hair and nail polish night where we just had fun. Oh! I also got a new job, at the Student Center. Yesterday was the first day I worked and it was pretty interesting. I think I like my new job. :D Anyway, that's basically what has been happening recently, just wanted to keep my readers updated. Now....on to the recipe. This is the one that is a continuation from my
red bean paste post
.
On September 9, I decided to make steamed peach buns, aka 寿桃, again because it was going to be my boss' and grandma's birthday. Last
time
I made them, I messed up because it was too cold, so I didn't let the buns rise for a sufficient amount of time. However, this time they were successful! Both recipes are for sure very reliable. Feel free to try both of
them
out.
Steamed Peach Buns 寿桃 II
Recipe from
Vivian Pang's Kitchen
.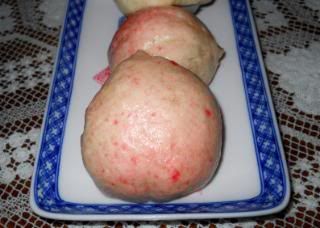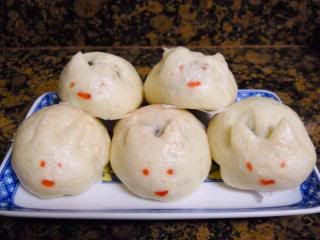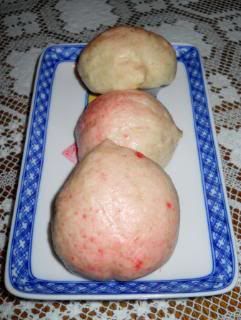 Ingredients
2 cups all purpose flour
1 cup cake flour
1 tsp active dry yeast
2 tsp baking powder
3 tbsp sugar (I used regular instead of castor)
1 cup water, lukewarm
1 tbsp oil




red bean paste


3 drops of red food coloring with a few drops of water
Mix together the flour, cake flour, yeast, baking powder, sugar, and water.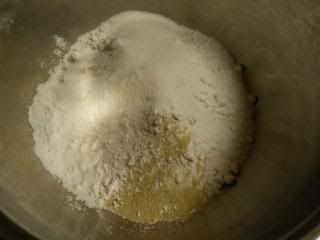 Then add the oil.
Cover with saran wrap.
Let it rise for around 10 minutes or so.
Divide the dough into portions. Then let it rest for 5 minutes for easy molding.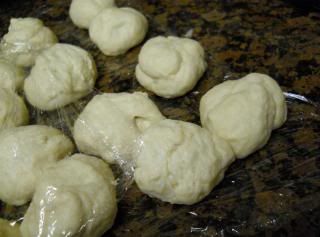 Wrap each portion with a scoop of red bean paste or whatever filling you prefer. Let it rise for another 15 minutes.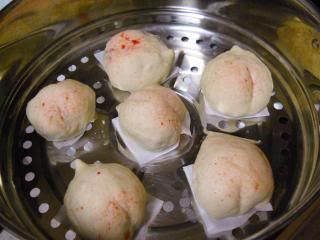 Then make a indent on the peach bun with a spoon and then spray with red food coloring.
If you want, make some bunnies. :D Cut two ears on top of the head and dot the eyes and nose with red food coloring.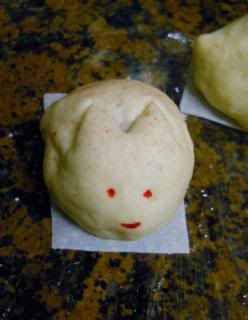 Here's a whole group.
Steam them for around 10 minutes, turn off the fire and then let them stay in the pot for a few minutes before opening the lid. You wouldn't want them to deflate on you :(, all your hard work would be wasted.
Enjoy. :D
.
.