Hi everyone! It seems like I'm taking longer and longer breaks. :/ Don't worry though, I'm not quitting yet. If I do, I'll warn you in advance. :P So just to ease back into blogging, I'm going to share a really simple recipe that I used to make red bean paste. This little post will be followed by the real deal in a couple of days. I won't tell you what it is now; you'll find out in a couple of days.
I got the recipe from Christine's Recipes. Right over
here
.
Red Bean Paste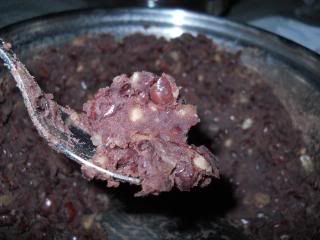 Ingredients
Red beans
Water
Rock sugar or regular sugar
Directions
Depending on how much red bean paste needed, adjust the recipe. The amount of water needed in proportion for the amount of red beans is 3:1. Remember to soak the red beans for a couple of hours before cooking the beans with an ample amount of water. Don't cook too long so that the water evaporates and the beans are about to burn. Cook it until the water is gone and the beans are soft. If the beans are still pretty hard, add more water and continue cooking. Make sure to keep an eye on the red beans.
After the beans are cooked, add sugar and mix until the sugar dissolves.
Then smush the red beans with a spoon or ladle until the red beans become paste.
Tada!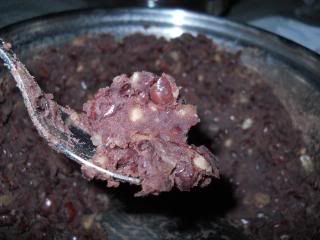 Easy peasy! :D Btw, I forgot to add the sugar when the water was halfway gone. So I added the sugar at the end. If you happen to forget, don't worry about it, it's fine. Have a great week everyone! :)