On the day of Mother's Day, my dad and uncle planned to make dinner for our moms (my aunt, my mom and my grandma). After I discovered that my uncle was going to make sushi, I rushed over to his house to learn how to make it. When I was little, I thought sushi was disgusting. However, after trying my uncle's sushi and tasting the weird, orange fish eggs, I found that sushi isn't that bad. Now I even go to eat sushi buffets! I still don't like sashimi though.
The most complicated part of sushi is prepping. Cooking the rice, slicing the cucumber and avocados, cooking eggs, and etc. I think it is totally worth it though. If you go out to buy sushi, you spend $5 on a few pieces alone. If you make it yourself, you can make several rolls with $5 of ingredients.
California Sushi
Recipe from my uncle, who got it from a church friend
Makes 10 rolls, each roll may be sliced into ~10 pieces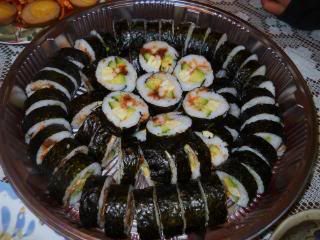 Ingredients
5 cups of rice, seasoned with rice vinegar and sugar, to taste
5 eggs
1 avocado, sliced thinly, into 20 strips
4 tbsp roe eggs mixed with 4 tbsp mayonnaise
2 sticks imitation crab meat, sliced into strips
2 cucumbers, sliced into 20 slices
10 pieces of seaweeed
Whisk 5 eggs until uniform in mixture and cook in two batches. The point of this is to make the eggs layered. cooking it in thin layers and folding it in half, cook a little more egg on the other side. Fold it in half again and add a little more egg on the other side. Do this so that after you fold it over, like an omelet, you will have 4 layers of this egg. Then cut the egg into strips.
When all the ingredients are ready, get out your seaweed and rice. Carefully spread the rice on the seaweed to prevent tearing. When placing the filling, try to place it with the smooth side against the rice, so when you roll it up the sushi will not be malformed. Place the egg, avocado, cucumber, crab meat, roe eggs, and anything else you would like to add onto the rice. Roll it up carefully using a bamboo mat. Also, placing the fillings depending on the color will make the sushi prettier. As the saying goes, practice makes perfect! so when you start off you might have trouble rolling it up. As you go along, it will get easier and easier and soon you will be a master. :D
Cook the sushi rice and season with rice vinegar and sugar. Cover the rice with saran wrap to let it cool down slowly.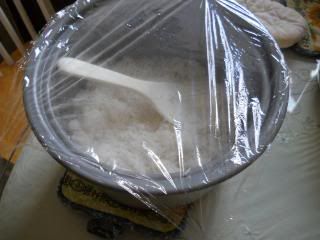 Cucumbers and avocado.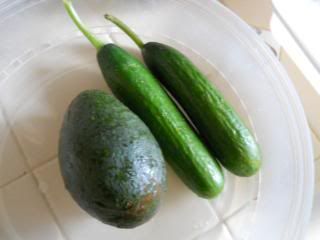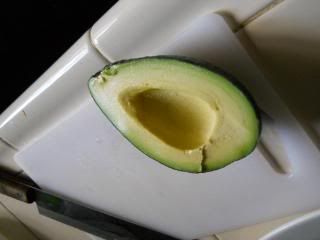 Slice the avocados into thin pieces.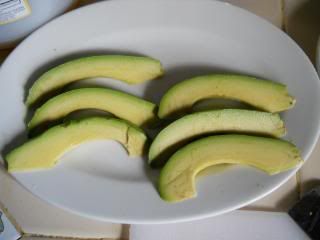 Set aside the avocado.
Whisk the eggs and prepare and grease a pan for cooking the eggs.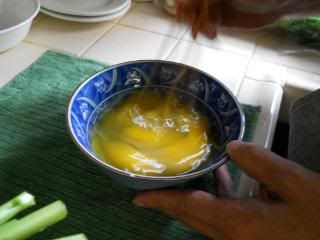 Cook a thin layer of eggs.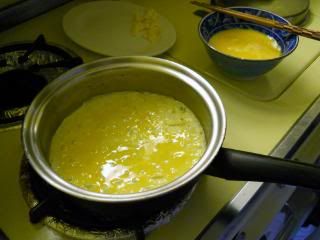 Divide the 5 eggs you whisked into two batches.
After the first layer is almost cooked, fold it in half and pour another thin layer onto the other half of the pan.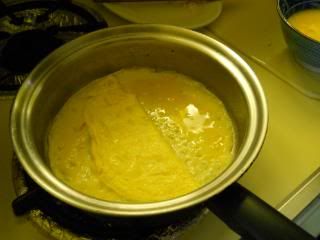 Let it cook a little longer and then fold it in half again.
So that it becomes like an omelet.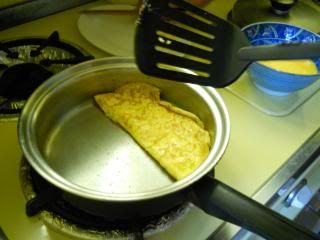 Add yet another layer by pouring in some more whisked eggs.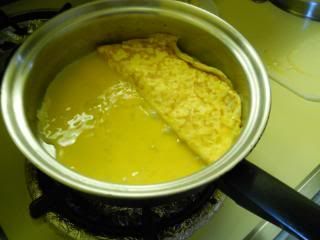 Then you end up with this.
Slice the "omelet" into thing strips, about finger width.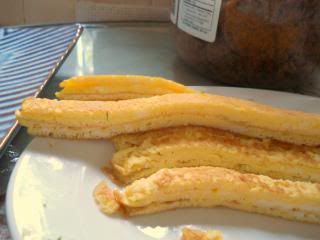 Here are all the rest of the ingredients, ready to go.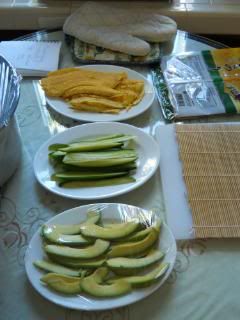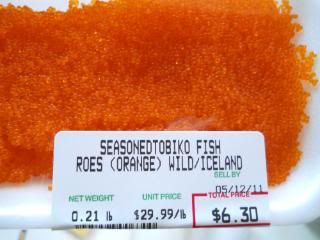 Here are the fish eggs mixed with some mayonnaise, with enough to make it spreadable.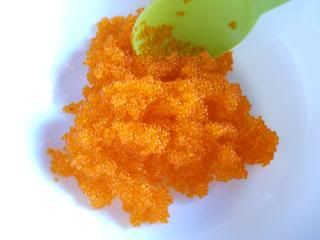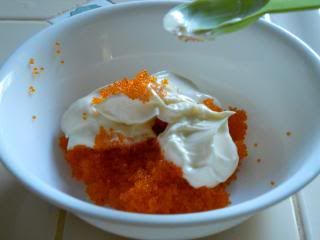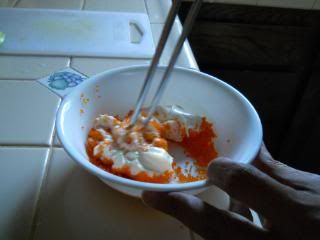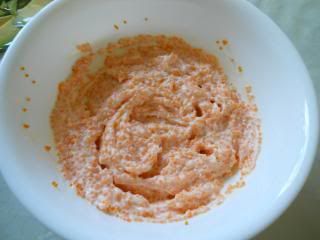 The fish eggs were so shiny and sparkly I couldn't resist taking several pictures.
Here's imitation crab meat, torn into strips.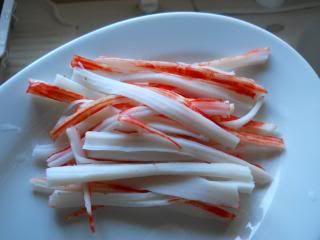 The brand of seaweed my uncle used.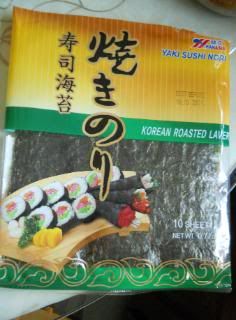 Spread a thin layer of rice onto a piece of seaweed like that.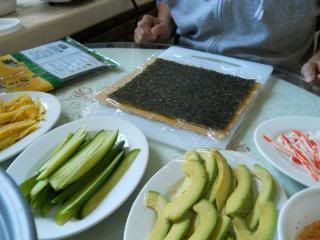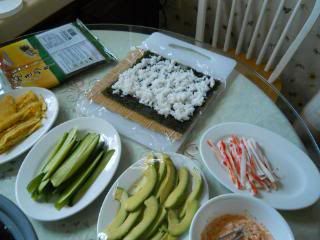 Place the toppings on top like that.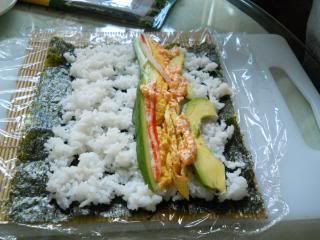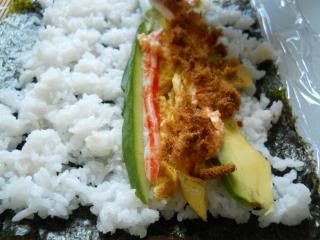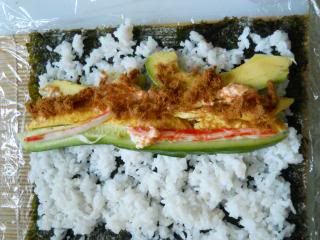 Roll it up.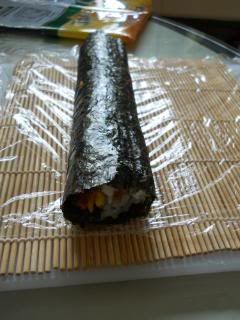 Wrap your sushi in saran wrap to keep it fresh while you finish rolling the rest of your sushi. This also keeps the seaweed from sticking to the other rolls.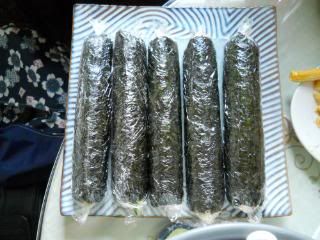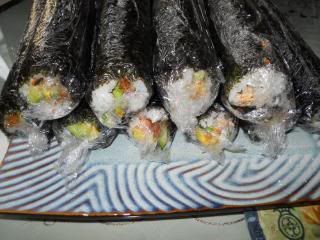 Tada!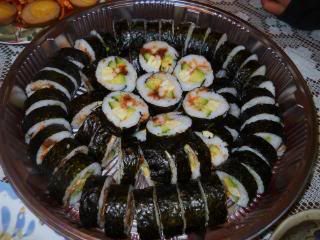 Enjoy all your hard work.