Notice: Since blogger went down recently, I discovered that some of my comments have disappeared. I'll reply to your comments again when I feel like retyping what I said. Also, sorry if your comments disappeared from my previous post. I didn't delete them. :( I appreciate that you left comments though.
When I first started getting serious in baking, I shared some of the goods with my Uncle's family. One day, he came over to my house, saw some croissants on the table, and asked my mom if I made them. I didn't. The croissants were from Costco, but after hearing that, I always wanted to try making croissants. I wanted to learn how to make something new and complicated like croissants. However, I never felt compelled to do so because of all the time needed to make croissants.
After taking on my senior project, it was necessary for me to make croissants because it was one of my goals. The whole process took around a day. Soooo complicated! Pounding out the butter took me a while and rolling out the dough did too. I guess I need more muscle? I had to finish this late at night because I started making the dough and such in the afternoon, after Chinese school and work. I didn't even bake it until the next day because I had to leave it in the fridge as instructed.
I was pretty happy with the results, however for some reason lots of the butter leaked out. While that's a good thing calorie wise, it's also a bad thing because I don't think that's supposed to happen. I asked my brother to evaluate the taste and he said it tasted normal...which I guess is good. My friends on the other hand, really enjoyed it. One of them even thought that I bought the croissants and was only saying that I made them, haha. I think that's all I have to say about these croissants. I'll tell you if I think of anything else.
Croissants
Recipe from America's Test Kitchen Family Baking Book
It can also be found
here
.
(Recently, I have been making a lot of things from that book.)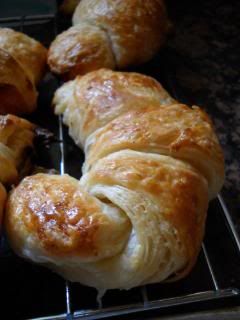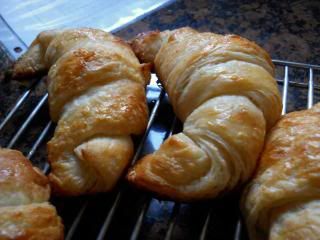 Make the croissant dough first.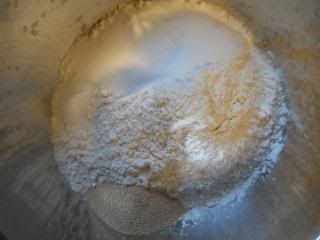 Mix everything together until a ball forms.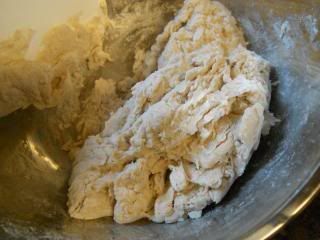 Add more flour if needed. Then let it rise for one hour in the refrigerator.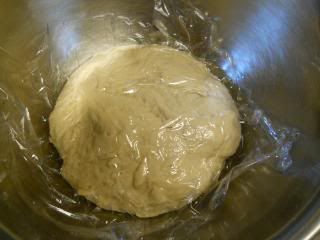 Meanwhile, make the butter square. Sprinkle a few tbsp of flour onto the butter square and start pounding away.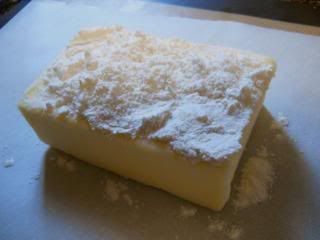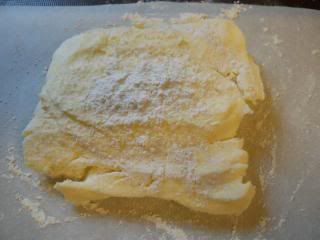 And pounding...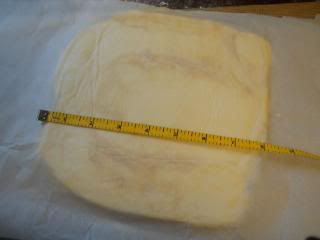 Then refrigerate the butter square as well for one hour.
After one hour, the dough should be puffy and the butter should be ready.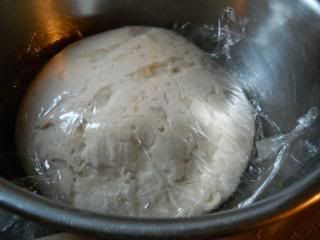 Roll out the dough into a square and place the butter square on top.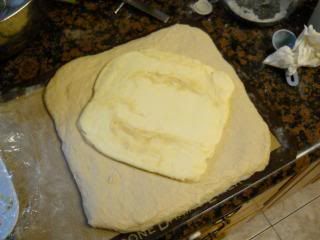 Enclose the butter inside by wrapping up the corners and pinching to seal the edges.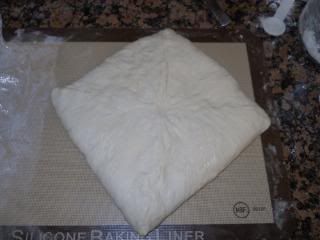 Then roll out the dough again. You can see some of the butter.
Fold the dough like you would fold a letter.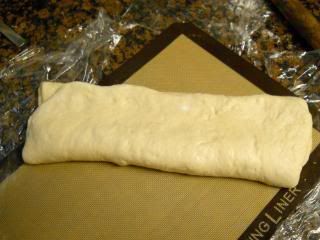 Make another two folds.
Wrap with saran wrap and put in the fridge.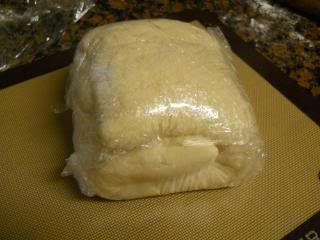 After two hours..
Repeat the rolling out, folding and refrigerating.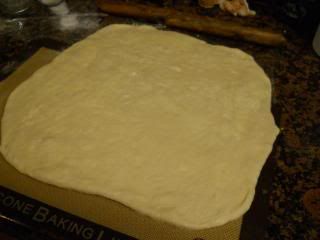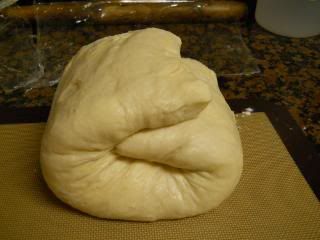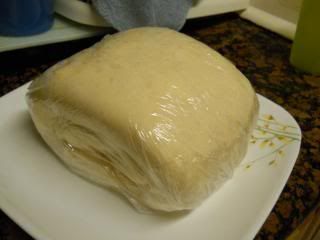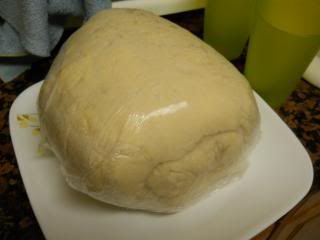 Roll out the dough again and cut into triangles.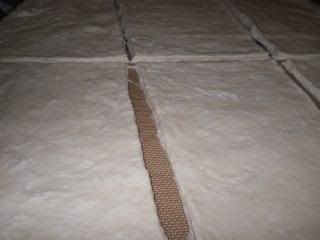 Roll the triangles up. Before doing that, make sure to make a
small slit
. I didn't bother taking a picture of the slit and rolling because my camera would have suffered too much abuse if I did that.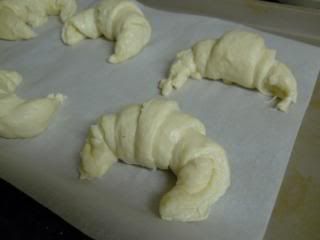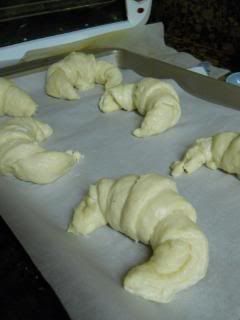 After refrigerating the dough for 10 hours, you'll finally be able to brush the croissants with egg wash and bake them!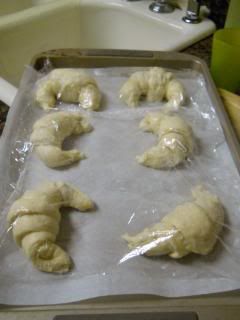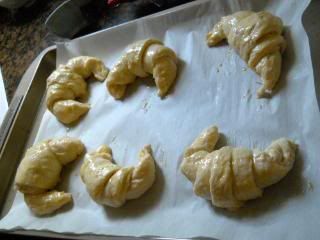 This one was the prettiest one.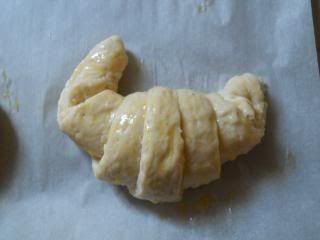 Enjoy! Your whole house will smell nice and buttery.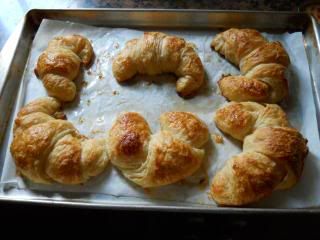 The croissants will be especially hot, so don't burn yourself.
Here's the inside.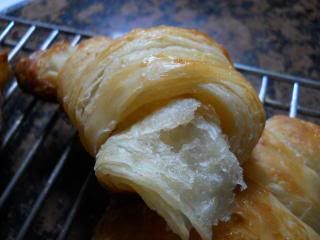 Some croissants are weirdly shaped, but by that time I couldn't care less. It was already close to 1 in the morning, and I was still making croissants.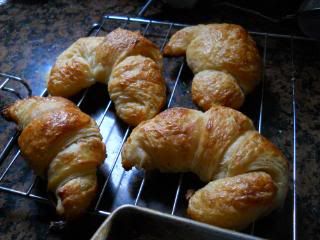 Although they were pretty successful, I doubt I ever want to make croissants again, unless I feel like impressing someone, but then it's just way too much trouble. --Is that even grammatically correct?? Well this was a super long post! Good luck to anyone who wishes to try this recipe.
Oh yea, the lighting was off because I took most of the pictures at night. So the dough's color varied sometimes from picture to picture.
Croissants are good with nutella, tuna & mayonnaise, or whatever you can think of. I used to eat tuna and mayo with croissants for breakfast when I was little. My brother thought it looked disgusting, but one day he tried it out and loved it. :P So yea, chocolate can also be incorporated into these croissants before you bake them!
Right now, I'm just being really random. This is my 100th post! Yay! How far I've come! Before I didn't even know how to bake bread. :) And I would always burn my baked treats. Is this my longest post ever?