I think close to a year has passed since I bought a can of pumpkin puree. At that time, I had found a few pumpkin recipes that I really wanted to try out. What I didn't realize was that those recipes required pumpkin spice, nutmeg, or several other spices. So I never used the pumpkin puree I bought until now, when I finally bought some pumpkin spice.
This chocolate chip pumpkin cake was pretty good. It was a little bit too sweet for my taste, and I'm someone who really likes sweets. I had already adjusted the amount of sugar used in this recipe too. Another tweak I made was decrease the amount of chocolate chips to only one cup because two cups would, in my opinion, overwhelm the cake. Even when I only added only one cup, each bite of the cake had several chocolate chips in them.
I liked how the cake turned out though. If you are someone who likes pumpkin pie, then you will like this cake because it tastes like pumpkin pie in cake form. I gave some to my friend A. and she said that her family enjoyed it. However, my brother, on the other hand, would not even taste the cake because he dislikes pumpkins.
Pumpkin Chocolate Chip Cake
Recipe
slightly adapted from
Tracey's Culinary Adventures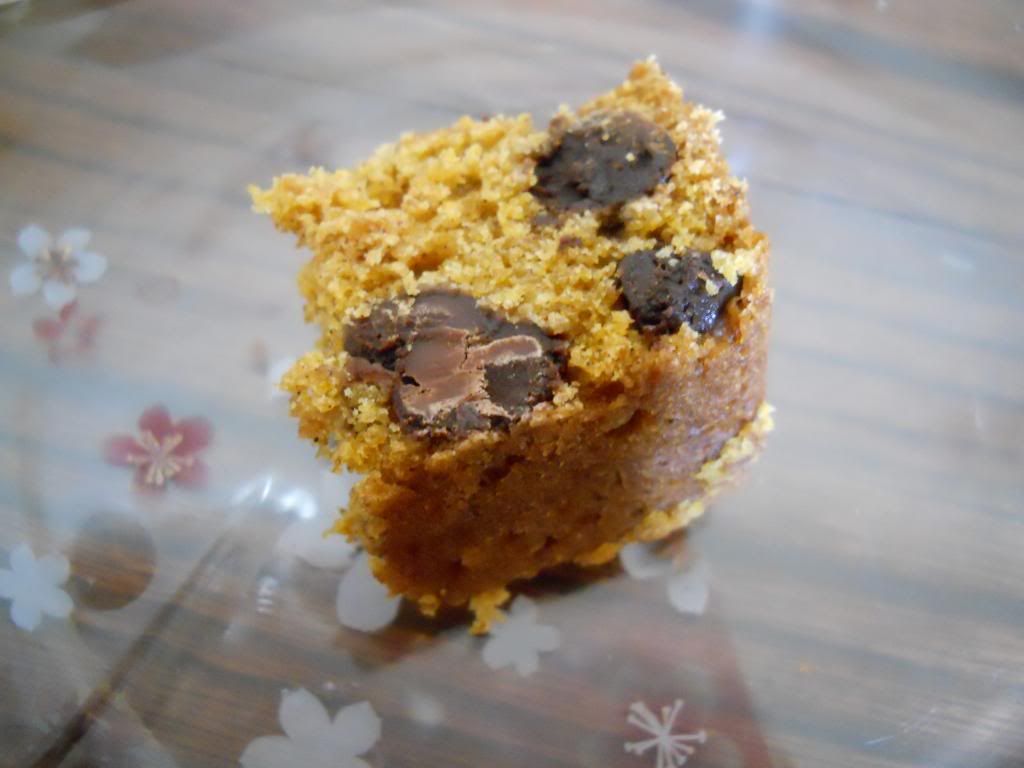 2 cups all-purpose flour
1 tablespoon pumpkin-pie spice
1 teaspoon baking soda
3/4 teaspoon salt
1 cup (2 sticks) unsalted butter, at room temperature
1 cup sugar
(original recipe called for 1 1/4 cups of sugar)
1 large egg, at room temperature
2 teaspoons vanilla extract
1 cup canned pumpkin puree
1 cup chocolate chips
(Original recipe asked for 2 cups)
Prepare a 9x13 inch pan.
Mix the flour, pumpkin spice, baking soda and salt together in a medium bowl. Cream butter and sugar in large bowl. Mix in the egg and vanilla, so that it is well combined. Add the pumpkin and mix it until just combined. The batter might look a litttle weird, but don't worry. Mix in the half of the flour mixture and then mix in the other half. Do it until it is just combined and then add in the chocolate chips.
Bake at 350*F for around 35-40 minutes. A toothpick inserted into the cake should come out with some crumbs. Cool the cake on a wire rack and then enjoy. :D