Hi everyone, I'm still alive. Sorry for being such a bad blogger recently. I decided to take a very short break back in June...and it turned into a two month break! I didn't feel motivated/patient enough to blog, but now I'm back. I'll tell you what happened these past couple of months in more detail another day.
Here's something that I learned how to make in a cooking class, the beginning of freshmen year, or more specifically, the summer before. I learned that spam was a solid chunk of meat. Before, I had always believed that spam was some type of veggie. Anyway, I finally made this again after a few years. I made this with my friend J. We had a great time making it. It's a very simple recipe and delicious too.
Spam Musubi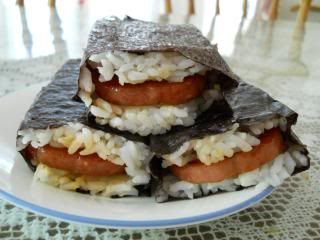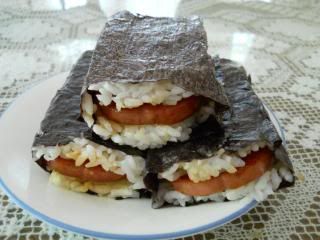 Ingredients for one spam musubi
1 strip of nori seaweed
Cooked rice
1 slice spam
Furukaki powder to taste
Musubi maker
Musubi Cooking Sauce
2 tbsp soy sauce
2 tbsp sugar
2 tbsp mirin (rice wine)
Directions
Mix the soy sauce, sugar, and mirin in a small pan or pot and heat, stirring until it comes just to a boil. Keep it warm at low heat.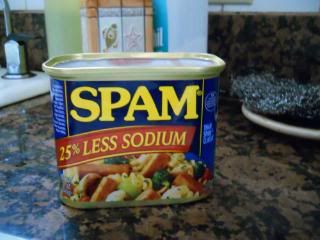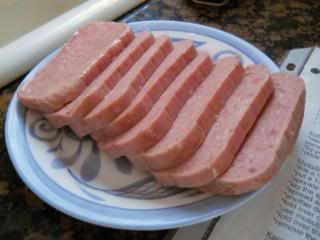 Slice the spam however thick you want it.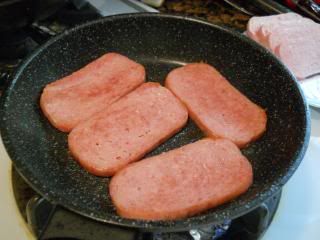 Fry the spam slices in a little oil in a skillet. Once slightly browned, soak spam in musubi sauce.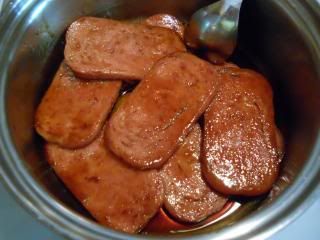 Musubi Assembly
Line a musubi maker with nori so that both ends stick straight up out of it.
Put a ¼" layer of rice on tope of the nori that is in the maker.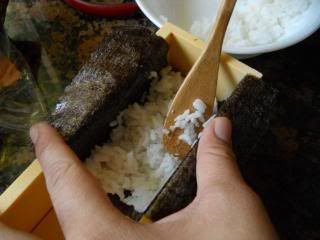 My friend J. puts the rice on the seaweed.
Sprinkle a dash of furukaki powder on the rice. Lay one slice of spam on top of that layer.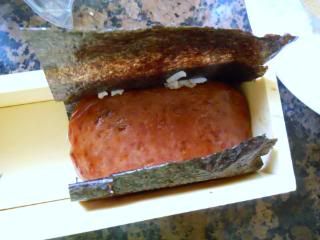 Spread another ¼" layer of rice on top of the spam. Add another dash of furukaki on top of the rice. Fold over one flap of nori. Use the musubi maker "pusher" to press down on top of the nori wrapping the rice and spam. Fold over the other flap, press down again. Remove the musubi and enjoy!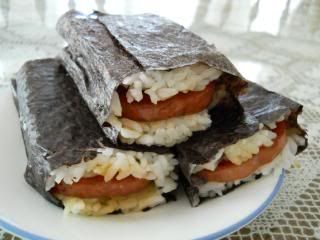 Notes:
1. The extra sauce can be reserved and used as a dipping sauce.
2. The nori seaweed may need to be cut into two pieces. Make it so that the it will fit the length of the spam.